PNY VCQGV100-PB Quadro GV100 Graphic Card - 32 GB HBM2 - Full-height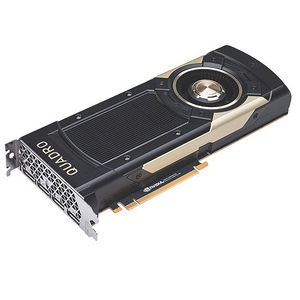 Highlights
Standard Memory: 32 GB
Number of Monitors Supported: 4
Cooler Type: Fan Cooler
Product Type: Graphic Card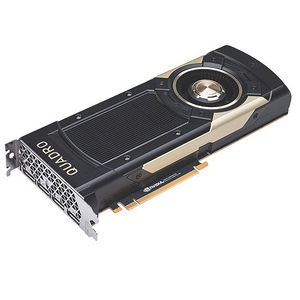 PNY VCQGV100-PB Quadro GV100 Graphic Card - 32 GB HBM2 - Full-height
Highlights
Standard Memory: 32 GB
Number of Monitors Supported: 4
Cooler Type: Fan Cooler
Product Type: Graphic Card
Reinventing the Workstation with Real-Time Ray Tracing and AI
AI, photo realistic rendering, simulation, and VR are transforming professional workflows. Engineers can now create groundbreaking products faster. Architects can design buildings that could only have existed in their imaginations. And artists can render complex photorealistic scenes in seconds instead of hours. As applications continue to be enhanced with these technologies, professional computing tools need to keep pace.

The NVIDIA Quadro GV100 is reinventing the workstation to meet the demands of these next-generation workflows. It's powered by NVDIA Volta, delivering the extreme memory capacity, scalability, and performance that designers, architects, and scientists need to create, build, and solve the impossible.
NVIDIA Quadro GV100 Benefits
Easy implementation of deep learning development – Access the NVIDIA GPU Cloud container registry with GV100 or other high-end Quadro GPUs for a comprehensive catalog of GPU-optimized software tools for deep learning and high performance computing on any workstation.
Accelerated deep learning training and inferencing on a desktop workstation – Dedicated Tensor Cores and the ability to scale two GV100s for up to 64GB of HBM2 memory with NVIDIA NVLink provide the performance required for demanding deep learning training and inferencing applications.
Supercharged rendering performance – Deep learning-accelerated denoising performance for ray tracing provides fluid visual interactivity throughout the design process.
Ability to run complex 3D simulations – Fast double-precision coupled with the ability to scale memory up to 64GB accelerates solver performance in computer-aided engineering workflows.
Collaborate, design and create in immersive VR – Support for advanced VR features and massive on-board memory capacity means designers can use physics-based, immersive VR platforms such as NVIDIA Holodeck to conduct design reviews and explore complex photoreal scenes and products at scale.
NVIDIA Quadro GV100 Benefits
Based on a state-of-the-art 12nm FFN (FinFET NVIDIA) high-performance manufacturing process customized for NVIDIA to incorporate 5120 CUDA cores, the Quadro GV100 GPU is the most powerful computing platform for HPC, AI, VR and graphics workloads on professional desktops. Able to deliver more than 7.4 TFLOPS of double-precision (FP64), 14.8 TFLOPS of single-precision (FP32), 29.6 TFLOPS of half-precision (FP16), 59.3 TOPS of integer-precision (INT8), and 118.5 TFLOPs of tensor operation capability, it supports a wide range of compute-intensive workloads flawlessly.
Tensor Cores Purpose-Built for Deep Learning
New mixed-precision Tensor Cores purpose-built for deep learning matrix arithmetic, deliver an 8x boost in TFLOPS performance for training, compared to the previous generation. Quadro GV100 utilizes 640 Tensor Cores; each Tensor Core performs 64 floating point fused multiply-add (FMA) operations per clock, and each SM performs a total of 1024 individual floating point operations per clock.
High Speed HBM2 Memory
Built with Volta's vastly optimized 32GB HBM2 memory subsystem for the industry's fastest graphics memory (870 GB/s peak bandwidth), Quadro GV100 is the ideal platform for latency-sensitive applications handling large datasets. Quadro GV100 offers 2x memory capacity and delivers 20% more memory bandwidth compared to previous generation. HBM2 also provides native support for Error Correcting Code (ECC) without capacity or performance penalties.
Available NVIDIA Quadro GV100 Accessories
NVIDIA NVLink2 Kit (NVLINK2-2W2S-KIT) provides two NVLink connectors for the GV100, effectively fusing two physical boards into one logical entity with 10240 CUDA cores, 1280 Tensor cores, and 64 GB of HBM2 GPU memory, with a bidirectional bandwidth of 200 GB/s.10X the performance of an 8-GPU system.

NVIDIA SLI Bridge Kit (HBSLIBRIDGE-2W2S-KIT / HBSLIBRIDGE-2W3S-KIT) leverages multiple GPUs to dynamically scale graphics performance, enhance image quality, expand display real estate. Order PNY Part Number HBSLIBRIDGE-2W2S-KIT or HBSLIBRIDGE-2W3S-KIT depending on motherboard PCIe slot spacing.

DisplayPort to HDMI Four Pack (DP-HDMI-FOUR-PCK) Connect the Quadro GV100 to HDMI displays at resolutions up to 4K with PNY Part Number DP-HDMI-THREE-PCK. The four included DisplayPort to HDMI adapters are recommended by NVIDIA, provide outstanding image quality, and are built to professional standards.

DisplayPort to HDMI Single Pack (DP-HDMI-SINGLE-PCK) Connect the Quadro GV100 to an HDMI display at resolutions up to 4K with PNY Part Number DP-HDMI-SINGLE-PCK. The included DisplayPort to HDMI adapter is recommended by NVIDIA, provides outstanding image quality, and is built to professional standards.

NVIDIA Quadro SYNC II (VCQPSYNC2-KIT) enable the creation of dazzling ultra-high resolution, perfectly synchronized displays to meet the visualization and presentation needs across industries. Designed for flexibility and scalability, Quadro Sync boards connect to select NVIDIA Quadro GPUs, synchronizing them with the displays or projectors attached to them. Quadro Sync also enables NVIDIA Quadro Mosaic™ technology on those synchronized displays and projectors, providing an easy way to scale the resolution of any application.