Exxact NVLINK GPU Systems
NVIDIA ELITE PARTNER
Exxact Corporation works closely with the NVIDIA team to ensure seamless factory development and support.
MAXIMIZE THROUGHPUT
A single Tesla V100 GPU supports up to six NVLink connections and total bandwidth of 300 GB/sec.
PLUG AND PLAY
Exxact systems are fully turnkey, built to perform right out of the box so you avoid the drudgery of configuration and setup.
HIGH PERFORMANCE
NVIDIA hardware, featuring Tesla V100 or Quadro GV100's to overcome your most demanding AI challenges.
PRE-INSTALLED TOOLS
Including NVIDIA DIGITS, Tensorflow, Torch/PyTorch, Caffe 2.0 Caffe-nv, Theano, and others optional upon request.
ACCELERATE YOUR AI
Have peace of mind, focus on what matters most, knowing your system is backed by a 3 year warranty and support.
SPECIFICATIONS
| | |
| --- | --- |
| GPU | 4x Quadro GV100 with 150 GB/s NVLink |
| CPU | 1x Intel X-Series Processor |
| MEMORY | 128GB DDR4 Memory |
| WARRANTY | 3 Year Warranty |
NVIDIA NVLink High-Speed Interconnect Accelerators:
Turing Architecture
NVIDIA NVLink High-Speed Interconnect Accelerators:
Volta & Pascal Architecture



TESLA V100

900-2G503-0000-000



TESLA P100

900-2H403-0000-000



QUADRO GV100

VCQGV100-PB



QUADRO GP100

VCQGP100-PB
DOUBLE PRECISION
7.8 TFLOPS
5.3 TFLOPS
7.4 TFLOPS
5.2 TFLOPS
SINGLE PRECISION
15.7 TFLOPS
10.6 TFLOPS
14.8 TFLOPS
10.3 TFLOPS
MEMORY HMB2
16 GB / 32 GB
16 GB
32 GB
8 GB
MEMORY BANDWIDTH
900 GB/s
720 GB/s
870 GB/s
717 GB/s
COOLING
Passive
Passive
Active
Active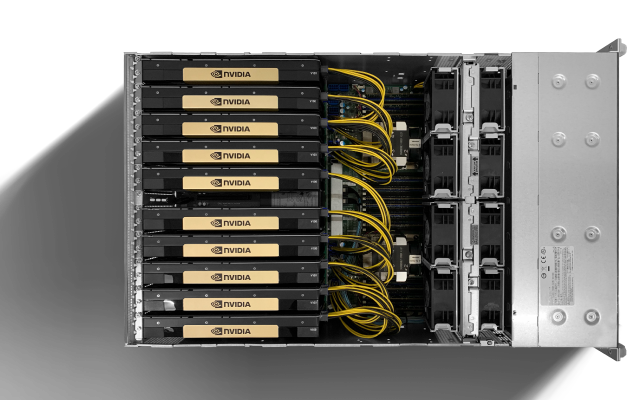 NVIDIA Quadro NVLink Bridge
QUADRO GV100
NVLINK BRIDGE
NVLINK2-2W2S-KIT
Up to
200 GB/s
Bidirectional with 2x Bridges
QUADRO GP100
NVLINK BRIDGE
NVLINK-2W2S-KIT
Up to
80 GB/s
Bidirectional with 2x Bridges
NVIDIA Quadro NVLink Bridge
Systems with multiple GPUs and CPUs are becoming common in a variety of industries as developers rely on more parallelism in applications like AI computing. These include 4-GPU and 8-GPU system configurations using PCIe system interconnect to solve very large, complex problems. But PCIe bandwidth is increasingly becoming the bottleneck at the multi-GPU system level, driving the need for a faster and more scalable multiprocessor interconnect.

NVIDIA® NVLinkTM technology addresses this interconnect issue by providing higher bandwidth, more links, and improved scalability for multi-GPU and multi-GPU/CPU system configurations. A single NVIDIA Tesla® V100 GPU supports up to six NVLink connections and total bandwidth of 300 GB/sec—10X the bandwidth of PCIe Gen 3. The NVLink implementation in Tesla P100/V100 supports up to four Links, allowing for a gang with an aggregate maximum theoretical bandwidth of 160 GB/sec bidirectional bandwidth.
New Levels of GPU-To-GPU Acceleration
First introduced with the NVIDIA PascalTM architecture, NVLink on Tesla V100 has increased the signaling rate from 20 to 25 GB/second in each direction. It can be used for GPU-to-CPU or GPU-to-GPU communication, as in the DGX-1V server with Tesla V100.
NVLINK DELIVERS UP TO 46% SLEEDUP VS PCIE
Server Config: Dual Xeon E5-2699 v4 2.6 GHz | 8x Tesla V100 PCIe or NVLink
ResNet-50 Training for 90 Epochs with 1.28M ImageNet dataset
NVIDIA NVLink can bring up to 31% more performance to an otherwise identically configured server. Its dramatically higher bandwidth and reduced latency will enable even larger deep learning workloads to scale in performance as they continue to grow.