Exxact Deep Learning Workstations and Servers
NVIDIA ELITE PARTNER
Exxact Corporation works closely with the NVIDIA team to ensure seamless factory development and support.
SCALABLE DEEP LEARNING
Offering a wide range of customizable options from workstations to clusters to meet your budget, starting at $7,999.
PLUG AND PLAY
Exxact systems are fully turnkey, built to perform right out of the box so you avoid the drudgery of configuration and setup.
HIGH PERFORMANCE
NVIDIA hardware, featuring Tesla V100, RTX 2080 Ti, GTX 1080ti, or Quadro GV100's to overcome your most demanding AI challenges.
PRE-INSTALLED TOOLS
NVIDIA DIGITS, Tensorflow, Torch/PyTorch, Keras, Caffe 2.0 Caffe-nv, Theano, Microsoft Cognitive Toolkit, and others optional upon request.
3 YEAR WARRANTY
Have peace of mind, focus on what matters most, knowing your system is backed by a 3 year warranty and support.
Suggested NVIDIA Deep Learning Systems
Entry-Level
Valence Workstation
4x NVIDIA RTX 2080 Ti, RTX 2080 or GTX 1080 Ti
1x 256GB SSD (OS)
2x 1TB HDD (Data)
START YOUR ORDER
More Specs
Mid-Range
Tensor Workstation
2x Intel Xeon Scalable (Silver)
4x NVIDIA RTX 2080 Ti, RTX 2080 or GTX 1080 Ti
1x 1TB SSD (OS)
2x 2TB HDD (Data)
START YOUR ORDER
More Specs
High-End
Tensor Server
2x Intel Xeon Scalable (Silver)
Up to 8x NVIDIA Tesla V100 32GB
1x 1TB SSD (OS)
1x 2TB SSD (Data)


START YOUR ORDER
More Specs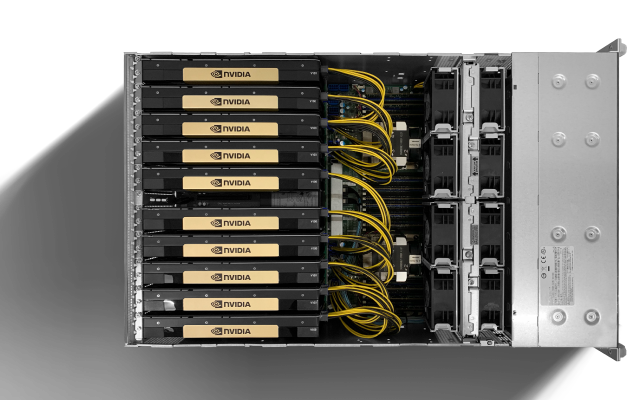 Loaded with the Most Powerful Deep Learning Software