iStarUSA BPX-124-SA Drive Enclosure for 5.25" Rack-mountable - Black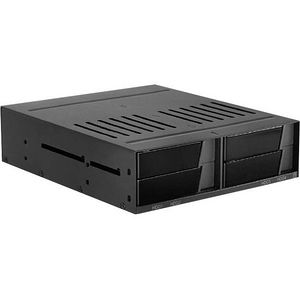 Highlights
Depth: 6.7
Number of Total Expansion Bays: 4
Product Type: Drive Enclosure
Condition: New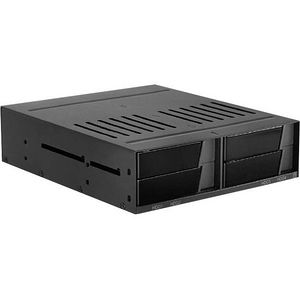 iStarUSA BPX-124-SA Drive Enclosure for 5.25" Rack-mountable - Black
Highlights
Depth: 6.7
Number of Total Expansion Bays: 4
Product Type: Drive Enclosure
Condition: New
Designed to meet the needs of users with high density storage needs such as graphic designers, engineers, and PC gamers who don't have much drive space in their systems. This drive cage only takes up one available 5.25drive slot to allow a user access to four 2.5 SATAII HDD/SSD (between 7mm -12.5mm height) with hot swap capability, ease of access, an screw down trays.

With the use of a 40mm fan mounted in the rear, the BPX-124-SA brings in cool air from the front and exhausts heat out the back. Thus creating a cooling effect inside the drive cage. The hard drive cage features aluminum designs to fit the needs of most industrial and DIY applications. The aluminum cover allows for better heat dissipation with ventilation holes on the top and sides which allows for rapid cooling which in turn, protect the HDD/SSD.

The BPX-124-SA is a great recommendation for any media workstation. The unit has HDD/SSD hot-swap capabilities, which allow you to quickly swap HDD/SSDs without having to first turn off the computer. It is an ideal solution to quickly access multiple 2.5 HDD/SSDs in a single 5.25 drive bay. The 40mm cooling fan provides excellent front-to-back cooling and airflow..