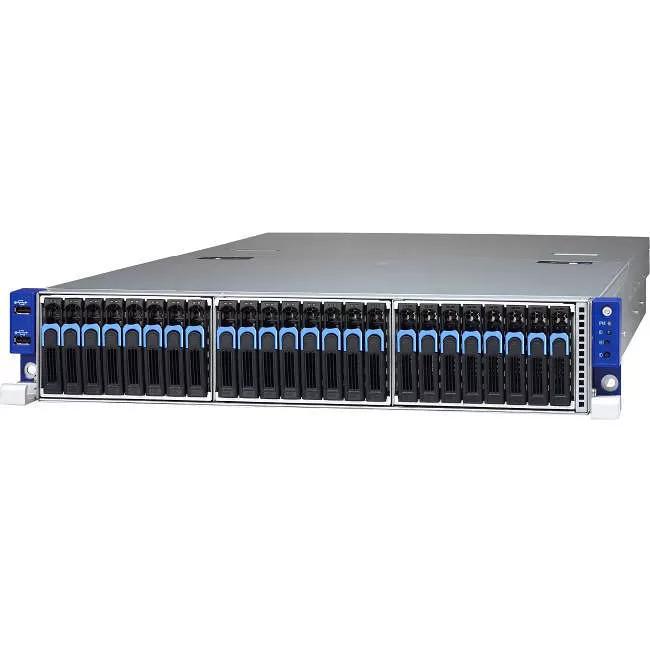 MPN: B8026T70AE24HR
TYAN B8026T70AE24HR TN70A-B8026 2U Rackmount Barebone - Socket SP3 - AST2500 BMC
TYAN TN70A-B8026 ALL-NVMe Storage Server B8026T70AE24HR

Traditional server architectures have tied high amounts of PCIe connectivity and memory capacity to dual socket designs. The AMD EPYC platform frees server designers from this limitation, allowing us to design single-socket servers with features only seen before in dual socket platforms. The Tyan Transport SX (TN70A-B8026) allows datacenter architects to select the right sized CPU without sacrificing memory capacity, memory performance, or PCIe connectivity.

Tyan's TN70A-B8026 offers outstanding computational power for a single-socket server, with support for 8, 16, 24, or 32-Core processors with up to 64 threads. The memory capacity of the server is also incredibly high for a single socket server, able to support up to 2TB of RAM with every processor in the AMD EPYC SKU stack.

The platform is a 2U server barebones based on the outstanding Tomcat SX (s8026) single-socket AMD EPYC motherboard. The B8026T70AE24HR model is an all-NVMe storage server with 24 Hot-Swap 2.5 NVMe drive bays and a LAN Mezzanine with support for network speeds up to 100Gigabit Ethernet. A half height / half length PCIe x8 card is also available for additional expansion.

The TN70A-B8026 is a versatile design and has an alternative hybrid SATA/NVMe model named the B8026T70AV16E8HR with support for 16 SATA bays, 8 NVMe bays, and more PCIe slots open in the rear. More details about the B8026T70AV16E8HR can be found here.
Key Features

AMD EPYC 14nm CPU

The AMD EPYC processor offers the highest possible performance from a single CPU socket, including:
8, 16, 24, or 32 core processors with 16, 32, 48, or 64 threads
Support for up to 2TB total RAM per socket on all CPU models
Support for memory speeds up to DDR4-2667
128 PCIe lanes
Dual Socket Feature Set

Traditionally, the only way to deploy a large number of PCIe devices or deploy large quantities of memory has been to select a dual-socket motherboard. This has resulted in datacenters full of underutilized and expensive dual-socket servers which had been purchased for memory footprint and I/O capabilities that had not previously been available in single-socket servers. Tyan has targeted these applications with the AMD EPYC platform by supporting up to 124 PCIe lanes and 8 memory channels in a single-socket platform. Significant savings can be had both in CPU cost and power consumption by migrating workloads to a single socket AMD EPYC platform and increasing resource utilization.