MSI OPTIXG27C Optix G27C 27" Full HD Curved Screen LED LCD Monitor - 16:9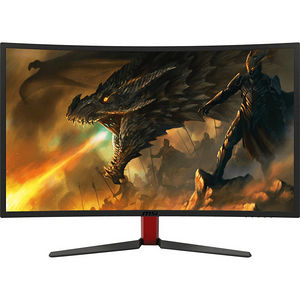 Highlights
Maximum Resolution: 1920 x 1080
Brightness: 300 Nit
Product Type: LCD Monitor
Condition: New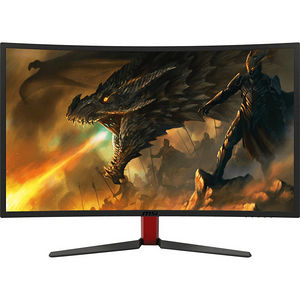 MSI OPTIXG27C Optix G27C 27" Full HD Curved Screen LED LCD Monitor - 16:9
Highlights
Maximum Resolution: 1920 x 1080
Brightness: 300 Nit
Product Type: LCD Monitor
Condition: New
Samsung curved panel
Optix G27C uses high quality Samsung curved panel. With lots of great feature, Optix can help you have the better performance in a game.
R1800 Curve Rate
Compared to R4000 or R3000 curve rates, R1800 is the most comfortable for your eyes and suitable for any kind of application including gaming, office or multimedia entertainment.
True colors
Optix G27C has at least 20% more gamut coverage than standard monitors, providing you more realistic and detailed images.
144Hz refresh rate
True PC enthusiasts know the value of a monitor with a high refresh rate. With a 144HZ refresh rate, this monitor is capable of showing you super sharp images while playing games, with decreased flickering.
Less Blue Light
MSI's Less Blue Light technology decreases the pressure on your eyes which is normally cause by emitting blue light.
178 Wide Viewing Angle
When you see more, you can game better. With a massive 178 degree viewing angle on this monitor, you will be able to see and experience your gameplay or multimedia to the fullest.
Anti - Flicker
Although it is hard to be noticed, normal screen's flicker-rate is about 200 times per second. This will cause pressure to your eyes. MSI Anti - Flicker provides you the most comfortable display making you can use it much longer without eye strain.
FPS front Sight
Need a little help on the Battlefield? With FPS Front Sight, you can aim at your target much easier in any type of game, giving you the edge while playing games.
Optimized for MSI Gaming Desktops
MSI has optimized the best settings in Gaming Center for Optix. There are 7 fantastic modes that you can easily select, depending on your PC activities.
FreeSync™ technology will sync the screen gameplay between graphics card and monitor which prevents your gameplay from tearing or stuttering, making your gaming experience more smooth.