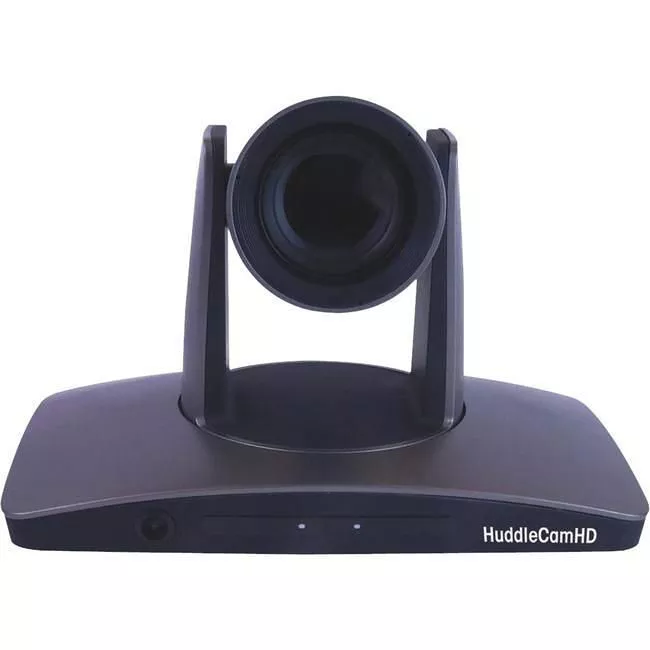 MPN: HC12X-HUDDLEVIEW
HuddleCamHD HC12X-HUDDLEVIEW PTZ 12x Optical Auto-Framing Conference Camera
Auto-Framing Camera Model
The HuddleView automatically frames all meeting participants in view for every meeting. This intelligent auto framing camera that uses facial tracking and motion to frame subjects. With a 12X optical zoom, the HuddleView is an ideal video conferencing camera solution for mid- to large-sized conferencing spaces.
Automatically Frame Meeting Participants
The two-camera system allows for the framing of all participants present at a meeting. Using a 12 optical zoom, the HuddleView frames the first meeting participant and continually adjusts as more participants enter the meeting space. It's that easy. Eliminate the setup and have your meeting room camera zoom in to capture everyone in full detail without a remote control.
Make meetings more personal and productive with auto-framing technology in your conference room.
Get to know Auto Framing
See just how quickly you can optimize the HuddleView for your video conferencing space. Easily remotely control and automate your conference cameras.
To truly customize a conferencing space, every HuddleView features software that gives camera operators the ability to set blocking zones where the camera won't track. The software also makes it possible to operate multiple HuddleView cameras on the same network. The HuddleView uses artificial intelligence technologies to ensure that all meeting participants are captured in the camera's frame. Enjoy the highest quality video conferencing experience with zero setup. The HuddleView simplifies your meeting your experience by automatically zooming into the people in your conference room and comfortably framing your video output for the ideal video. Create a complete USB based video conferencing solution with our or HuddlePod Air Duo wireless USB speakerphones.
Be seen in 1080p
Crystal clear High Definition 1080p video with lossless 12X optical zoom letting you get up close to see and interact with your team.
Easy Set Up
With HuddleCamHD you are getting the easiest solution possible. Simply plug your camera into your computers USB port and start your video conference.
Plug-and-Play USB Connectivity
Easily connect your camera to a PC, Mac or ChromeBox without the need for additional software. For best results use a quad-core processor.
Ideal Field of View
The HuddleView has an ideal field of view for long and narrow rooms. Wide enough to capture your entire table but narrow enough to zoom across the room onto a white board or area of interest.
Use your favorite software
Works with virtually every online video conferencing software with no need for additional drivers or proprietary connections.
Camera Presets
Access camera presets with the included IR remote control. Easily control your cameras pan tilt and zoom along with other fine tuning setting from your remote control.
IP Camera Control
Manage cameras remotely and control from anywhere on your network. Integrate the camera into a larger control systems such as Crestron or AMX.
The HuddleView includes multiple video outputs, including Ethernet, DVI, SDI and USB 3.0. Don't let the tech be intimidating because this is truly a plug-and-play camera that can be connected to any computer or lecture capture system. HuddleView cameras are compatible with a variety of conferencing platforms, including Go to Meeting, Skype and Zoom.