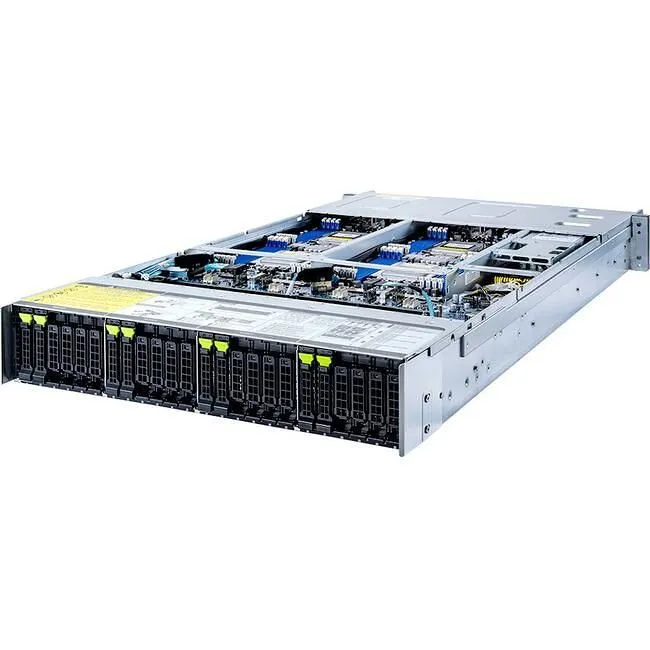 MPN: H262-Z6B
GIGABYTE H262-Z6B 2U Rack-mountable Barebone - SoC - 4 Nodes - Socket SP3 - 2 x Processor Support
AMD EPYC™ 7002 Series Processor (Rome)
The next generation of AMD EPYC has arrived, providing incredible compute, IO and bandwidth capability - designed to meet the huge demand for more compute in big data analytics, HPC and cloud computing.
Built on 7nm advanced process technology, allowing for denser compute capabilities with lower power consumption
Up to 64 core per CPU, built using Zen 2 high performance cores and AMD's innovative chiplet architecture
Supporting PCIe® 4.0 with a bandwidth of up to 64GB/s, twice of PCIe 3.0
Embedded security protection to help defend your CPU, applications, and data
PCIe® 4.0 Ready
AMD EPYC Rome is ready to support PCIe® 4.0 with a bandwidth of 64GB/s, twice that of PCIe 3.0. This doubles the bandwidth available from the CPU to peripheral devices such as graphics cards, storage devices and high speed network cards. GIGABYTE's AMD EPYC 7002 Series server platforms are ready to be used with a new generation of PCIe 4.0 devices such as AMD's Radeon MI50 GPGPU.
Higher Memory Speed
AMD EPYC's Rome 7002 Series processors feature faster 8 channel DDR4 memory lanes, supporting RDIMM or LRDIMM memory modules with a speed of up to 3200MHz (1 DIMM per channel)
OCP 3.0 Add-On Card Ready
GIGABYTE's AMD EPYC Rome Server Platforms feature an onboard OCP 3.0 mezzanine slot for the next generation of PCI Gen 4.0 add on cards.
Compared to previous OCP 2.0 type cards, advantages of this new type include:
Easier Serviceability: simply slot in / pull out the card without needing to open the server chassis; tool less design
Larger Thermal Envelope: more space for heat sink provides an increased power budget for new & emerging capabilities
Silicon-Based Root of Trust
This server is embedded with a hardware-level root of trust mechanism to protect against firmware attacks by checking BMC/BIOS 's encrypted signature to ensure that it boots up with legitimate code, and to detect compromised firmware stored in SPI flash. If all modules are validated successfully through the chain of trust, control would be handed off to OS or hypervisor, if not it will recover by replacing the illegal image with the compromised firmware version without manual intervention.
The boot statuses of BMC and BIOS can be indicated by front panel LEDs.
Max TDP Support
GIGABYTE's AMD EPYC server platforms come ready to support the full list of AMD EPYC 7002 Series processors: up to 225W (standard TDP) / 280W (cTDP)
Data Security | TPM 2.0 Module
GIGABYTE's AMD EPYC Server is designed to support Trusted Platform Modules (TPM - discrete cryptographic on-board processors).