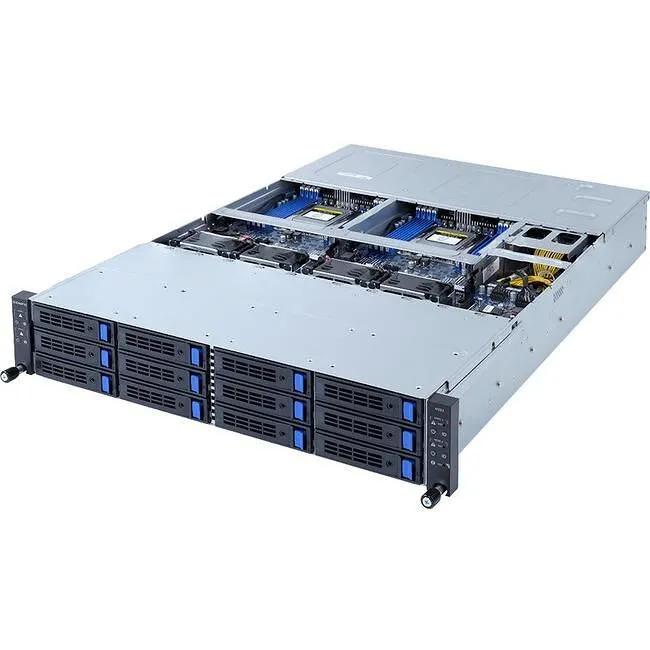 MPN: H252-Z12
GIGABYTE H252-Z12 Barebone - AMD Rome CPU
Nothing Stacks Up To EPYC™ | AMD EPYC™ 7003 Processors with AMD 3D V-Cache™

AMD EPYC 7003 Series Processors with AMD 3D V-Cache™ technology are raising the bar once more for breakthrough performance on targeted technical computing workloads like Electronic Design Automation, Computational Fluid Dynamics, and Finite Element Analysis software and solutions. Delivering breakthrough performance per core and performance per watt, the Zen 3 architecture maintains leadership in number of cores - up to 64, amount of L3 cache - 768MB, and 128 PCIe 4.0 lanes, while maintaining socket compatibility with existing 3rd Gen AMD EPYC platforms.

Architecture for Modern Data Centers | AMD EPYC™ 7003 Series Processors
GIGABYTE servers and AMD EPYC 7003 Series Processors deliver the highest possible I/O throughput to pave the way for fast communication between CPU and accelerator in HPC and data analytics.
Up to 64 Cores
8 Channels of DDR4-3200
Up to 4TB Memory Capacity
128 lanes PCIe 4.0
2-way SMT & Turbo Boost
4,6,8-channel Memory Interleave
Synchronized Fabric and Memory Clock Speeds
Secure Memory Encryption
Secure Encrypted Virtualization
Max Memory Speed Even at 2 DPC
With GIGABYTE unique solution, maximum memory speed is now supported, even when using 2 DIMMS per channel. GIGABYTE's server platforms give you the performance edge, with more memory capacity at faster speeds.
OCP 3.0 Ready
GIGABYTE's G-,H-,R- series offer servers that feature an onboard OCP 3.0 slot for the next generation of PCIe 4.0 add on cards. Advantages of this new type include:
Easier Serviceability: simply slot in / pull out the card without needing to open the server chassis; tool less design
Larger Thermal Envelope: more space for heat sink provides an increased power budget for new & emerging capabilities
Hardware Security | Hardware-level Root of Trust

Protection is built in the silicon to ensure systems will not be vulnerable to security attacks or cyber threats. This hardware-level root of trust (ROT) helps isolate the system as the boot process starts to make sure a verified code is used.
Provides:
Integrity of cryptographic keys and secure key generation
Boot process protected and verified
Secure application environment and protection at runtime
Optional TPM 2.0 Module
For hardware-based authentication, the passwords, encryption keys, and digital certificates are stored in a TPM module to prevent unwanted users from gaining access to your data. GIGABYTE TPM modules come in either a Serial Peripheral Interface (SPI) or low pin count (LPC) interface.