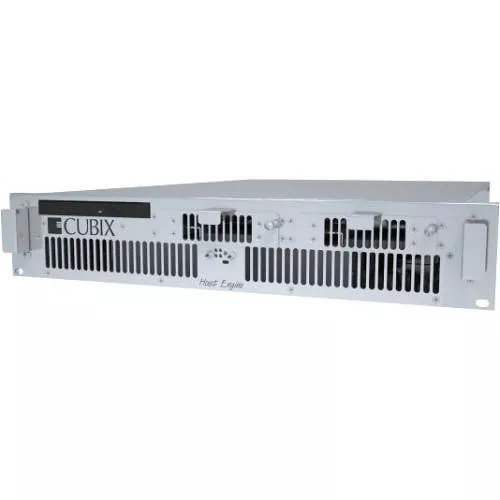 MPN: HE2U97
Cubix HE2U97 HostEngine Workstation - 2 X Xeon E5-2697 V4 18 Core 2.3 GHz - 32 GB DDR4 - 500 GB SSD
HostEngine 2U computer features Intel® Xeon® 3.2GHz or lower-speed single- or dual-processor(s) with the Intel C602 chipset. HostEngine 2U provides four PCI Express (PCIe) Gen 3.0 x16 expansion slots. Each slot can accommodate a half-height, half-length controller such as the Cubix Host Interface Controller (HIC) that connects to Cubix Xpander products. Each HIC connects to multiple slots within an Xpander Rackmount 8 or other Xpander products.

By connecting HostEngine to GPUXpander Rackmount 8, you can add eight double-wide GPUs such as NVIDIA® Quadro K5200 or M6000 to the HostEngine 2U computer for running Autodesk® 3ds Max or Bunkspeed® Shot with Mental Images® iray on Microsoft® Windows® 7. You can also run BlackMagic Design® DaVinci Resolve® 9.0 for Linux or Windows on HostEngine 2U computer.

Connecting to Xpander Rackmount 8 also enables you to connect to GPU Compute Engines such as NVIDIA Tesla K40 / K80 or AMD Firepro S9100 / 9150 / 9170 for HPC applications, Grid K2 for virtual desktop projects or multiple Intel Xeon Phi coprocessors for parallel processing.

HostEngine 2U standard configuration provides one or two 2.5-inch SATA 3 solid-state drives (SSDs). HostEngine 2U accommodates four full-height, half-height, half-length HICs.