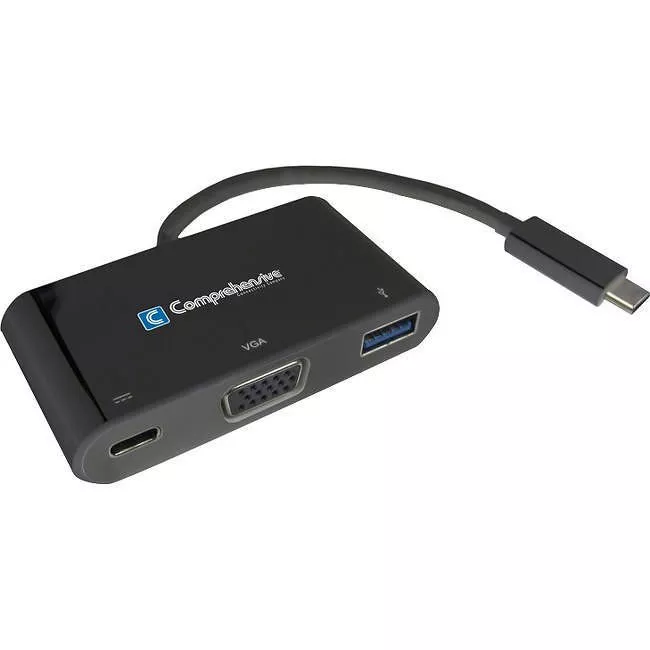 MPN: USB3C-VGAUSB3PD
Comprehensive USB3C-VGAUSB3PD USB Type-C to VGA + USB3.0 + Power Delivery (PD) Adapter
Comprehensive's Type-C to VGA + USB3.0 + Power Delivery (PD) adapter is a USB 3.1 Type-C to multi-port adapter cable that supports up to 1080p@60Hz resolution on the VGA video output allowing you to connect any VGA display or projector. A USB 3.0 port is also included to charge/sync your smartphone or connect other legacy devices such as an external USB hard drive or hub. The adapter also includes fast charging for your laptop or any other larger electronic device thanks to pass-through power on the female Power Delivery (PD) USB-C port. USB Type-C offers a low profile, robust design, which is more durable compared to the previous versions of USB connectors. The connector cable includes Comprehensive's high quality Shielded Twisted Pair (STP) construction, to block electro-magnetic interference and ensure reliable data communication. Backed by Comprehensive's 3 Year Warranty, you can be assured of guaranteed quality and reliability.

What is USB Power Delivery (PD) ?
USB Power Delivery is a new feature introduced with the Type-C connector. Power Delivery (PD) allows devices to negotiate and deliver the optimum power level for each application under the current battery conditions. Power Delivery (PD) can expand USB to deliver up to 100W (20V, 5A) of power. With Power Delivery (PD) you have enough power to charge a laptop with fast charging due to the pass through power on the female PD USB-C port.