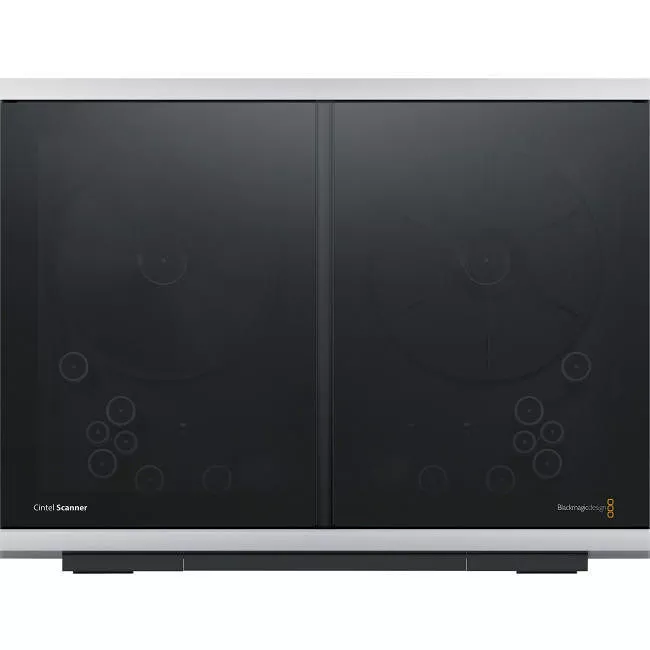 MPN: CINTELSCAN4K
Blackmagic Design CINTELSCAN4K Cintel Film Scanner
Blackmagic Cintel Film Scanner
The creativity of film combined with a revolution in design!
No other company in the world has more experience at scanning film than Cintel, and now that knowledge has been combined with cutting edge technology to produce the new Blackmagic Cintel film scanner! The new Cintel scanner has been designed with an architectural aesthetic and it's so thin it can even be wall mounted! It features totally redesigned digital servos, high intensity diffuse light source and imaging systems, so you get a real time scanner that scans 35mm and 16mm film up to 30fps in Ultra HD resolution! Now you can use film for post production or unlock millions of hours of film based content for scanning to Ultra HD masters for a new future world of exciting Ultra HD distribution!
Convert Existing Film to Ultra HD
With consumers purchasing large Ultra HD televisions in massive quantities right now, the demand for great Ultra HD content has never been greater and will become a boom market in the next few years. Ultra HD is incredible quality and there are millions of hours of Ultra HD content that's been generated over the last 100 years locked up in 35mm film that is stored in vaults worldwide! The new Cintel scanner will scan negative and positive 35mm film into amazing quality Ultra HD and you can unlock the extra resolution from 35mm film that no one has been able to see until now! 35mm film is natively 4K so the extra quality is already in the film. There is no easier way to generate Ultra HD feature films and television programming for customers to view on their new large screen televisions!
Innovative Design
Automatic Tension
2000ft Capacity
Angled Transport Deck
Designed to hang beautifully on your wall, the Cintel film scanner is constructed using aircraft design techniques for a stiff and vibration free main deck so you get smooth film handling. The core chassis has been designed as a super rigid structural space frame, which results in a design that's dramatically lighter than an older simplistic heavy plate design. This means the Cintel scanner is light enough to be wall mounted in your facility, making it part of the environment of your color correction suite. Being super thin and wall mounted, it's out of the way until you need to use it, and then it springs to life and performs! Whether wall or desk mounted the innovative design includes sliding doors, built in cleaning rollers and new digital servos to keep your film clean and ensures handling of valuable negative remains gentle.
Latest Technology
The new Cintel film scanner is an innovation in technology. Film traditionally has been a mechanical technology and film products have suffered from poor quality electronics that required experienced engineers to keep them working. The Cintel scanner has been designed with the latest Blackmagic Design image processing technology and features a Thunderbolt 2 connection so you can connect it to your Mac and scan the film directly into your color correction system. That makes setup and use extremely fast plus eliminates slow file copying after scanning. Because Cintel is a Mac OS X Thunderbolt 2 peripheral, you get easy to install software updates that add new features and it also means you can even upgrade your computer whenever you need!