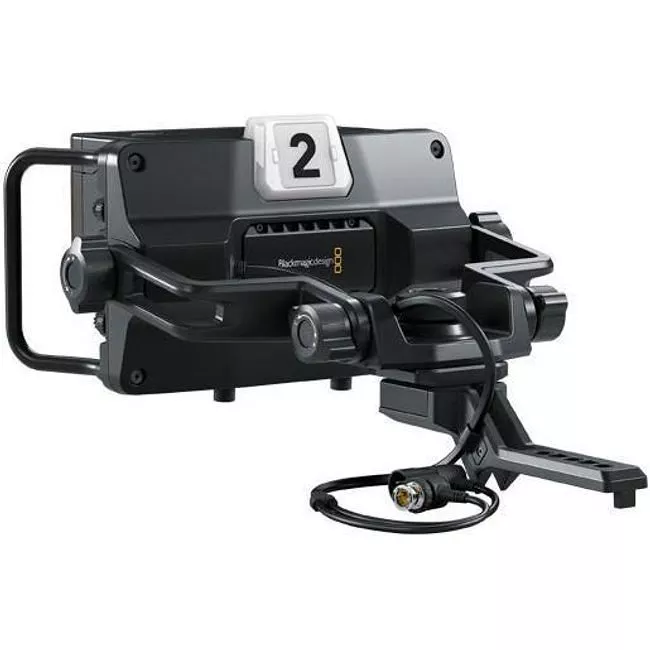 MPN: CINEURSANSVF
Blackmagic Design CINEURSANSVF URSA Studio Viewfinder
Now you can turn URSA Mini into a professional live production camera by adding the all new URSA Studio Viewfinder! Unlike traditional studio cameras which are based on simple video imaging technology, URSA Mini is a true digital film camera combined with full professional studio camera features. You get talkback, tally and remote camera control, plus you can add the amazing Blackmagic URSA Studio Viewfinder to get a professional studio camera user interface. The studio viewfinder features a bright 7 screen that features a large easily viewable tally light, control knobs, large grab handles, sun shade, variable tension articulated mount and more!


In the Studio or On Location

Comfortably work for hours on long events!
Operating a camera at live concerts, sports, and other long events is hard if you have to look through a traditional eyepiece for hours on end! The URSA Studio Viewfinder has a large bright display with grab handles and external controls that make it easy to stand behind the camera and comfortably follow the action for extended periods of time. The URSA Studio Viewfinder features integrated dials and buttons that let you adjust settings without having to take your eyes off of the action, plus it includes tally lights and drop in acetate numbers so it's always easy to identify which camera is live!


Designed for Live Production

Easy to position, adjust and control while live on air!
Designed for professional live production, the URSA Studio Viewfinder features large handles and variable tension articulated mounting that allow you to adjust the position and angle of the viewfinder without moving the camera. It connects directly to the SDI and power outputs on your URSA Mini Pro, which makes installation extremely simple. The large 7 screen includes a detachable sunshade so you can use it day or night, and the tactile control dials and customizable function buttons let you make adjustments on the fly so you don't have to touch the screen or look away!
Control at Your Fingertips

Never take your eyes off of the action!
The URSA Studio Viewfinder features tactile controls that allow you to quickly display critical framing and focus overlays, change settings and more! A menu dial allows you to fly through options and also dial in which part of the picture is magnified so you can check detail and focus. You can also adjust the viewfinder's brightness, contrast and focus peaking using the dedicated knobs on the right side of the screen. Plus, there are three customizable buttons that can be used to display zebra, false color, edge focus detection, luminance waveform, custom LUTs and more right at your fingertips!
Framing Guides

Completely customizable guides and cursors!
Frame guides are an essential function for every viewfinder, especially during live production where graphics and other elements are going to be keyed downstream. The Blackmagic URSA Studio Viewfinder framing guides can show you where a lower third, graphic, logo or ticker will appear so you can accurately compose and frame shots! You can create up to three black or white custom cursors that can have variable height, width and position, so it's easy to match the location to the graphics that will be added live or during later broadcast.