ATTO INIT-MAC0-001 Xtend SAN iSCSI Initiator software - Single User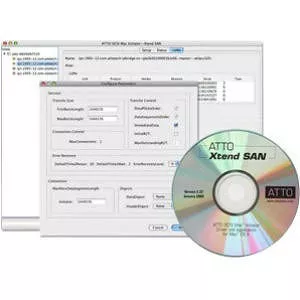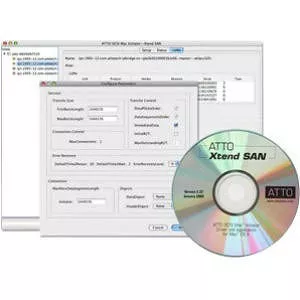 Highlights
Distribution Media/Method: Download
License Quantity: 1 User
Platform Supported: Mac
Software Main Type: Network & Communication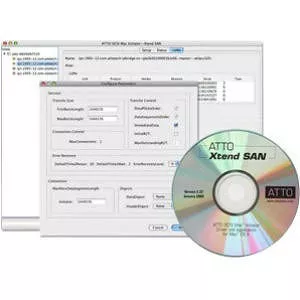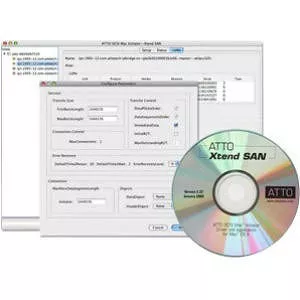 ATTO INIT-MAC0-001 Xtend SAN iSCSI Initiator software - Single User
Highlights
Distribution Media/Method: Download
License Quantity: 1 User
Platform Supported: Mac
Software Main Type: Network & Communication
iSCSI is an important enabler for key applications including collaborative digital video/audio workflows, laptop connectivity to SANs, and remote backups. With iSCSI, small businesses and workgroups can take full advantage of a SAN environment, even with limited IT budgets and resources. Xtend SAN has been rigorously tested with products from leading iSCSI manufacturers, ensuring a high degree of interoperability.

The simplicity of iSCSI makes it the ideal storage networking protocol for Mac OS X users who are accustomed to the legendary ease-of-use of Mac OS X, as even non-technical users can set-up and manage a server with just a few mouse clicks. Xtend SAN further lessens the effort associated with the implementation of an iSCSI SAN by providing features designed for ease-of-use. Xtend SAN provides a user interface that reflects the elegance and simplicity Mac OS X users have come to expect.

With a wide range of iSCSI products compatible with OS X, ATTO is the premier provider of iSCSI solutions for Mac OS X users.