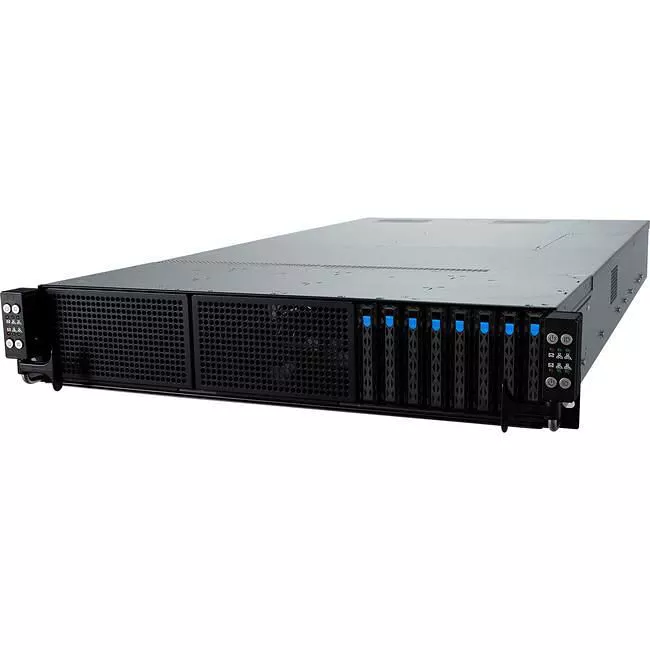 MPN: RS720Q-E10-RS8U
ASUS RS720Q-E10-RS8U Barebone - 2U - 4x Node - 2x Socket P+/LGA-4189 - Intel C621A - 16x DDR4 - 8x 2.5" NVMe/SATA/SAS - 1x GbE- 3000 W
Great Scalability and High Performance Computing (HPC) with 4 nodes in a 2U Rack Sever

ASUS RS720Q-E10-RS8U is the ideal multi-node server powered by 3rd Gen Intel® Xeon Scalable processors, with each node supporting up to 16 DIMM, one PCIe® 4.0 slot, one OCP 3.0 and two M.2, and a total of eight NVMe/SAS/SATA drives.

3rd Gen Intel Xeon Scalable processors
The RS720Q-E9-RS8-S is built with the latest Intel® Xeon® Processor Scalable Family with 16 DDR4 Memory up to 3200MHz, and designed for the demand of high scalability, high density computing, and wide range of existing and emerging workloads.

PCIe 4.0 Ready
PCI Express® (PCIe®) 4.0 delivers 16 GT/s bandwidth, which is double the speed of PCIe 3.0, offering lower power consumption, better lane scalability and backwards compatibility.

Cooling Solutions
Air or liquid-cooled solutions. Asetek's Direct-to-Chip (D2C) liquid-cooling technology achieving lower power-usage effectiveness (PUE) and optimized TCO for data centers.

Enhanced Security
PFR FPGA as the platform Root-of-Trust solution for firmware resiliency Trusted Platform Module 2.0 (TPM 2.0) to secure hardware through integrated cryptographic keys and offer regular firmware update for vulnerabilities.