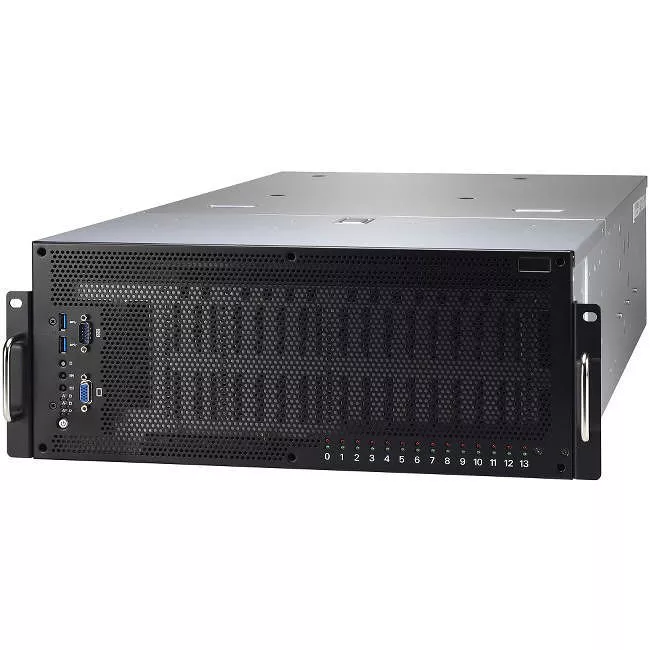 MPN: B7109F77DV14HR-2T-NF
TYAN B7109F77DV14HR-2T-NF HX FT77D-B7109 4U Rackmount Barebone - 8x GPU - C621 Chipset - LGA-3647
Tyan Thunder HX FT77D-B7109 Dual Root Complex 8 GPU Server

The Thunder HX FT77D-B7109 is the fifth generation of Tyan's 4U 8GPU server platform based on the new Intel Xeon Scalable Processor Family. It builds upon the success of previous generations by adding additional features that our customers have asked for over the years. These enhancements include support for an internal storage mezzanine slot, allowing the deployment of SAS drives without consuming precious PCIe slots in the rear that would otherwise be used by GPU cards. Tyan's engineers also found additional space next to the 8 GPU cards in the server for a 9th PCIe x16 slot, ideal for high speed networking or NVMe retimer deployment.
As a dual root complex GPU server, the B7109 deploys a pair of Xeon Scalable Processors with an even split of GPU cards between the two. The motherboard deploys a set of four PLX PEX8747 PCIe switch chips to provide the connectivity for the 8 GPU card slots. The B7109F77DV14HR-2T-NF SKU adds support for Xeon processors with integrated Intel Omni-Path 100 gigabit networking fabric.
Key Features
Xeon Scalable Processor Family

The new Xeon Scalable Processor is Intel's largest advancement in a decade and brings many new features and capabilities:
Up to 28 CPU cores per socket
50% Increased memory bandwidth with 6 memory channels per socket
Memory speeds up to DDR4-2667 (depending on CPU SKU)
No slowdown in memory speed when deploying 2 DIMMs per channel
Increased PCIe connectivity to 48 PCIe Gen3.0 lanes per CPU socket
Optional Integrated Intel Omni-Path Architecture Host Fabric Interface
Native support for up to 14 SATA ports
New Ultra Path Interconnect
New Advanced Vector Extensions 512 (AVX-512)
Support for 8GPUs + Single-Wide x16 slot

The new Xeon Scalable Processor Family increases the amount of PCIe lanes available in a system. The FT77D-B7109 takes full advantage of this and increases total expansion capability from its predecessor, adding a 17th slot to the rear of the chassis. This allows a single-wide x16 card to be installed next to a full compliment of 8 double-wide GPU cards, and is ideal for NVME deployment or high speed networking like 100 Gigabit EDR Infiniband, 100 Gigabit Ethernet, or 100 Gigabit Intel Omni-Path fabric.
Optional Integrated Intel® Omni-Path Architecture (Intel® OPA) Host Fabric Interface

The FT77D-B7109 has optional support for the Intel Xeon Scalable Processor Family's newest member, the Skylake-F CPU with integrated 100 Gigabit Omni-Path networking fabric. The B7109F77DV14HR-2T-NF SKU supports dual socket SKL-F CPUs for a total of 200Gb/s fabric connectivity.
Integrated Intel® Omni-Path Architecture (Intel® OPA) Host Fabric Interface is an end-to-end high-bandwidth, low-latency fabric that features optimized performance and eases the deployment of HPC clusters.
Native Active/Passive GPU support
The mechanical design of the FT77D chassis allows expansion cards to fully utilize the 4U enclosure, allowing the FT77D-B7109 to deploy the widest range of accelerator cards in the industry without requiring a specialized domed lid for the power connectors of active GPU cards.

Internal PCIe x8 Storage Mezzanine

Tyan's FT77D-B7109 features a new internal storage mezzanine slot, allowing customers to deploy SAS IOC, SAS RAID, or x8 NVMe risers. This allows customers to run any combination of 14x 2.5 SATA drives, up to 8 SAS drives, and up to 2 NVMe devices without consuming any expansion slots in the rear of the server.