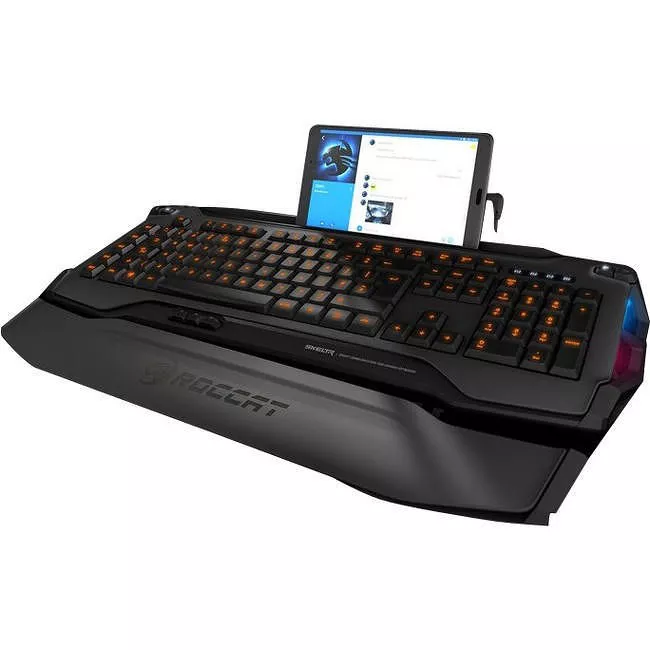 MPN: ROC-12-231-GY
ROCCAT ROC-12-231-GY Skeltr - Smart Communication RGB Gaming Keyboard - Grey
The Skeltr is the full-powered keyboard that unites your peripherals and mobile device, creating an unstoppable gaming force. Taking device integration to a new level, it consolidates your control by bringing your smartphone or tablet into the fold and putting it right on the frontline for all your battles.

Say goodbye to swapping between device and computer as you interrupt your gaming by responding to messages; say hello to the keyboard that lets you master worlds. Say hello to the Skeltr.

UNIVERSAL DEVICE DOCKING SLOT

The biggest challenge posed by integrating a mobile device into a gaming keyboard is where to put the mobile device itself. The market for keyboards with smartphone or tablet integration is full of products with flimsy adjustable docks and holders comprised of cheap plastic parts that break easily. No thanks. To meet this challenge we devised a device docking slot discreetly positioned on the rear side of the keyboard. It works with virtually every mobile device on the market and features no movable parts that break easily.

TYPE TO DEVICE

You're in-game and on a roll, top of the scoreboard on your server. Oh no, what's that? Out of the corner of your eye you see the notification light on your phone flash. You take a short time-out to pick up your phone and reply to your friend's message, but meanwhile you're sinking down the scoreboard without a trace. Every gamer knows this problem. The Skeltr fixes it. It lets you toggle between system and device typing at the touch of the button, so you can hammer out a quick response to your friend without interrupting your gaming, letting you finish the round on top.

MANAGE AUDIO AND CALLS

The Skeltr makes it so you'll never need to pick up your mobile device while gaming. Not for messages, and not for calls either. With your smartphone and headset connected to the Skeltr, you can take calls through your headset without interruption by simply hitting the Call button. Want to listen to some tracks that are on your phone? The audio button lets you quickly toggle between PC and mobile device as an audio source.

COMPANION APP READY

The increasing computing power of mobile devices has led to an ever-expanding list of games featuring companion apps. Mobile is here, and it's here to stay. The Skeltr lets you take full advantage by placing your smartphone or tablet front and center of your gaming experience. ROCCAT®'s very own Power-Grid™ app is the start. It works as an advanced and fully-customizable remote control for your PC, letting you connect to, monitor and control your software. Perfect for the Skeltr.

ROCCAT® SWARM POWERED

Swarm provides next-level computer to mobile device integration for Skeltr. PC side it works as a veritable gaming command HQ, offering a software and driver suite plus an overview of all your ROCCAT® device settings. Smartphone side it's an extension of the computer software, letting you quicklaunch games, configure illumination options, check your APM, your GPU/CPU temperatures - and more. Also features Talk® FX + AlienFX™ support, providing lighting effects for your favorite games in 16.8m colors.