PNY VCQGP100-PB Quadro GP100 Graphic Card - 16 GB HBM2 - PCIe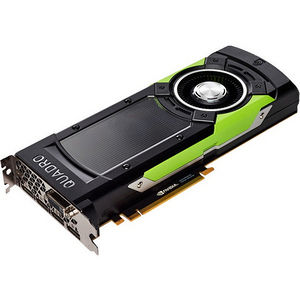 Highlights
Standard Memory: 16 GB
Number of Monitors Supported: 4
Cooler Type: Fan Cooler
Product Type: Graphic Card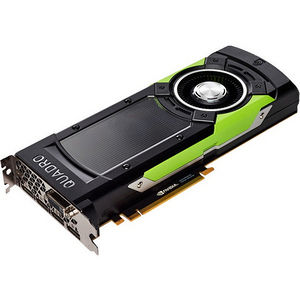 PNY VCQGP100-PB Quadro GP100 Graphic Card - 16 GB HBM2 - PCIe
Highlights
Standard Memory: 16 GB
Number of Monitors Supported: 4
Cooler Type: Fan Cooler
Product Type: Graphic Card
NVIDIA Quadro GP100—The World's Most Powerful Workstation Graphics And Compute Card
The NVIDIA Quadro GP100, powered by NVIDIA's Pascal GPU architecture, is equipped with advanced visualization and simulation capabilities to meet the needs of the most demanding professional workflows. A single GP100 with 3580 FP32/1792 FP64 CUDA Cores has incredible horsepower to render photorealistic design concepts interactively, create extremely detailed 3D models, run intensive CAE simulations to validate designs, and evaluate design prototypes in immersive VR.

Designs are becoming more complex. Media is becoming richer, higher fidelity, combining greater resolutions and complex visual effects. Scientific visualization and compute problems are larger than ever. NVIDIA Quadro Sync II compatibility enables the GP100 to build massive and sophisticated visualization, simulation and rendering environments. VR is changing all facets of entertainment, design, engineering, architecture and medicine. AI and deep learning are changing the way professionals are solving the most complex and challenging computing problems. Customers want to experience ideas, validate designs, test ideas, and simulate solutions and visualize the results as quickly as possible.

The GP100 is an excellent choice for developers who want to tap into the power of NVLink and Unified Memory to maximize their application performance. Additionally, its fast FP16 performance makes it an ideal desktop workstation solution for developers working on the latest Deep Learning/AI algorithms and frameworks.

>> Click here to see the newest model: the NVIDIA Quadro GV100
NVIDIA NVLink High Speed Interface
Connect a pair of Quadro GP100 cards with NVLink to increase the effective memory footprint and scale application performance by enabling GPU-to-GPU data transfers at rates up to 80 GB/s (bidirectional).
High Speed HBM2 Memory
Built with Pascal's vastly optimized 16GB HBM2 memory subsystem for the industry's fastest graphics memory (717 GB/s peak bandwidth), Quadro GP100 is the ideal platform for latency-sensitive applications handling large datasets. HBM2 also provides native support for Error Correcting Code (ECC) without capacity or performance penalties.
NVIDIA CUDA Parallel Computing Platform
Natively execute standard programming languages like C/C++ and Fortran, and APIs such as OpenCL, OpenACC and Direct Compute to accelerates techniques such as ray tracing, video and image processing, and computation fluid dynamics.
NVIDIA Quadro Sync II
Synchronize the display and image output of up to 32 displays from 8 GPUs (connected through two Sync II boards) in a single workstation, reducing the number of machines needed to create an advanced video visualization environment.
Available NVIDIA Quadro GP100 Accessories
NVIDIA NVLink Kit (NVLINK-2W2S-KIT) provides two NVLink connectors for the GP100, effectively fusing two physical boards into one logical entity.

NVIDIA SLI Bridge Kit (HBSLIBRIDGE-2W2S-KIT / HBSLIBRIDGE-2W3S-KIT) leverages multiple GPUs to dynamically scale graphics performance, enhance image quality, expand display real estate. Order PNY Part Number HBSLIBRIDGE-2W2S-KIT or HBSLIBRIDGE-2W3S-KIT depending on motherboard PCIe slot spacing.

DisplayPort to HDMI Four Pack (DP-HDMI-FOUR-PCK) Connect the Quadro GP100 to HDMI displays at resolutions up to 4K with PNY Part Number DP-HDMI-THREE-PCK. The four included DisplayPort to HDMI adapters are recommended by NVIDIA, provide outstanding image quality, and are built to professional standards.

DisplayPort to HDMI Single Pack (DP-HDMI-SINGLE-PCK) Connect the Quadro GP100 to an HDMI display at resolutions up to 4K with PNY Part Number DP-HDMI-SINGLE-PCK. The included DisplayPort to HDMI adapter is recommended by NVIDIA, provides outstanding image quality, and is built to professional standards.

NVIDIA Quadro SYNC II (VCQPSYNC2-KIT) enable the creation of dazzling ultra-high resolution, perfectly synchronized displays to meet the visualization and presentation needs across industries. Designed for flexibility and scalability, Quadro Sync boards connect to select NVIDIA Quadro GPUs, synchronizing them with the displays or projectors attached to them. Quadro Sync also enables NVIDIA Quadro Mosaic™ technology on those synchronized displays and projectors, providing an easy way to scale the resolution of any application.