NVIDIA Tesla Pascal GPU Architecture
Pascal is the NVIDIA codename for the GPU microarchitecture, and successor to the NVIDIA Maxwell architecture. The architecture was first introduced in April 2016 with the release of the Tesla P100. Pascal was manufactured using the 16nm FinFET process. The Successor to Pascal is The Volta Architecture, with the release of the Volta-based GV100 chip in June 2017. Volta is the first chip to feature Tensor cores, specially designed cores that have superior deep learning performance over regular CUDA cores.
Learn more about NVIDIA Tesla based Solutions



P100 for SXM2

900-2H403-0000-000





P100 for PCIe

900-2H400-0000-000
900-2H400-0010-000



P40

900-2G610-0000-000





P4

900-2G414-0000-000


CUDA CORES
3584
3584
2560
3840
DOUBLE PRECISION
5.3 TFLOPS
4.7 TFLOPS
2.8 TFLOPS
5.3 TFLOPS
SINGLE PRECISION
10.6 TFLOPS
9.3 TFLOPS
5.5 TFLOPS
12 TFLOPS
HALF PRECISION
21.2 TFLOPS
18.7 TFLOPS
11 TFLOPS
24 TFLOPS
NVLINK BANDWIDTH
160 GB/s
-
-
-
PCIE BANDWIDTH
32 GB/s
32 GB/s
-
-
MEMORY
16 GB
16 GB | 12 GB
8 GB
24 GB
MEMORY BANDWIDTH
720 GB/s
720 GB/s | 540 GB/s
192 GB/s
346 GB/s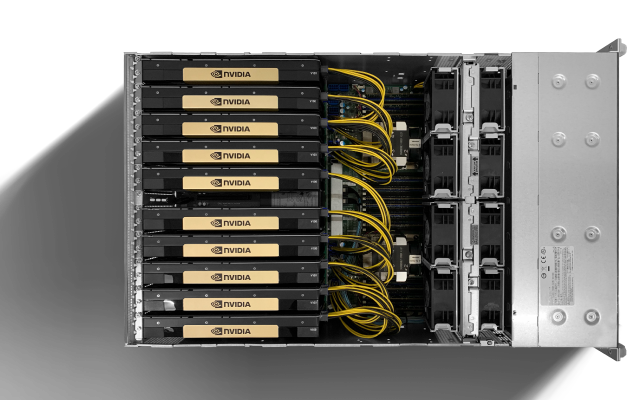 Volta Architecture Featuring NVIDIA Tensor Cores for Deep Learning
Tensor Cores are a key capability enabling the Volta GPU architecture to deliver the performance required to train large neural networks. Each NVIDIA Volta V100 contains 640 Tensor Cores, which are designed specifically for deep learning delivering groundbreaking performance—up to 12X higher peak teraflops (TFLOPS) for training and 6X higher peak TFLOPS for inference. This key capability enables the Volta Architecture to deliver 3X performance speedups in training and inference over the previous generation.
NVIDIA TESLA P100 PERFORMANCE
Dual CPU server, latest E5-2689 v3 @2.3 GHz, 256 GB System Memory | *M40 for Caffe/AlexNet