Exxact NVIDIA TITAN Workstations
Powered by NVIDIA's latest GPU architecture, the NVIDIA TITAN series of GPUs are the most powerful graphics cards ever created for the PC. NVIDIA TITAN GPUs provide top of the line performance, engineering, and design.
SPECIFICATIONS
GPU

Up to 2x NVIDIA TITAN RTX GPUs with NVLink™ Available, or 4x NVIDIA TITAN V GPUs





CPU

Intel Core i7-7820X 8 Core Processor Extreme Edition (11M Cache, Base 3.60 GHz Boost up to 4.30 GHz); Optional Xeon Processor





MEMORY

Up to 512GB DDR4 Memory (Using a Xeon Processor)





SOFTWARE

Pre-installed standard Ubuntu 16.04 (CentOS Optional) w/ Caffe 2.0, Caffe-nv, TensorFlow, Torch/PyTorch, Keras, Theano, BIDMach, cuDNN,OpenCV, CUDA, Microsoft Cognitive Toolkit, and MXNet

All neccessary NVIDIA Drivers and NVIDIA DIGITS Software included.



NVIDIA TITAN RTX & NVIDIA TITAN V Comparison
Exxact has designed a series workstations that are powered by NVIDIA TITAN graphics cards for computational research in fields such as Machine Learning, Molecular Dynamics, CFD, Data Analytics, and more.
TITAN V
900-1G500-2500-000
CUDA CORES
5120
TENSOR CORES
640
HALF PRECISION
110 TFLOPS
SINGLE PRECISION
13.8 TFLOPS
DOUBLE PRECISION
6.9 TFLOPS
MEMORY
12 GB HMB2
BASE CLOCK
1200 MHz
BOOST CLOCK
1455 MHz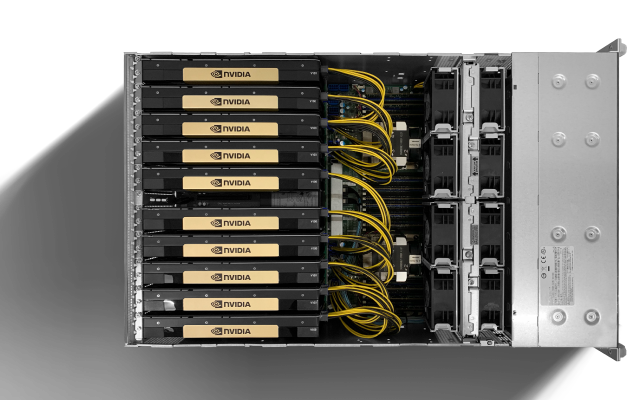 TITAN RTX NVLINK Bridge
NVIDIA TITAN RTX Only
Double the effective GPU memory capacity to 48 GB and scale performance with up to 100 GB/s in total bandwidth of data transfer utilizing the NVIDIA NVLink technology.
NVIDIA TITAN RTX and TITAN V Workstations
Featuring Tensor Cores for Deep Learning
Tensor Cores are a key capability first introduced with the Volta GPU architecture to deliver the performance required to train large neural networks. Each TITAN RTX contains 576, while the TITAN V contains 640 Tensor Cores, which are designed specifically for deep learning delivering groundbreaking performance. This key capability enables NVIDIA TITAN Workstations to deliver maximum deep learning workstation performance speedups in training and inference.
NVIDIA TITAN V Performance on TensorFlow
Accelerated Applications
MACHINE LEARNING/
DEEP LEARNING
MOLECULAR
DYNAMICS
COMPUTATIONAL
FLUID DYNAMICS
IMAGE
GENERATION