NAMD Optimized GPU Systems for Molecular Dynamics
NAMD OPTIMIZED*
Exxact provides NAMD Optimized GPU Systems for high performance biomolecular simulation.
FULLY CUSTOMIZABLE
A wide range of options available from workstations to clusters to meet any budget, starting at $4,999.
PLUG AND PLAY
Exxact Corporation works closely with the NVIDIA team to ensure seamless factory development and support for our systems.
GPU ACCELERATED
Calculations of electrostatic potentials, interactive display of molecular orbitals, and more general molecular modeling algorithms.
PRECONFIGURED
With example job submission scripts, benchmarks, a fully validated test suite, and the latest software patches for quick implementation.
SCALABLE PERFORMANCE
Based on the Charm++/Converse parallel runtime system, & measurement-based load balancing for scaling to thousands of processors.
Suggested NAMD GPU Systems
Entry-Level
Valence Workstation
Mid-Range
Tensor Workstation
High-End
Tensor Workstation
*The NAMD license is free for end users and is available for download from the NAMD homepage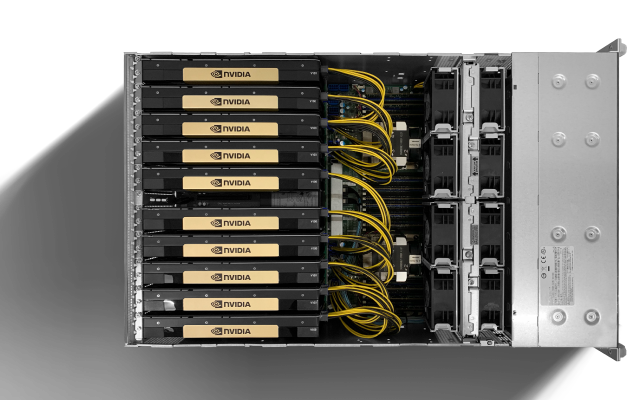 Scaling Accelerated Molecular Dynamics Simulations With GPUs
Recent breakthroughs GPU Acceleration for High Performance Computing (HPC) have yielded rapid advancements in the domain of Molecular Dynamics (MD). Such MD simulations commonly constitute 100,000 atoms, while numerous published NAMD simulations have exceeded 10,000,000 atoms. Proper research of even the most basic bio-molecular machines typically depend on simulations of 100 ns or longer. Typically the most time consuming calculations in molecular dynamics are the force calculations between non-bonded atoms. To aid this, GPUs are the perfect solution due to the inherent high degree of parallelism and floating point arithmetic capability. Typically GPU Accelerated NAMD Simulations attain performance levels up to twenty times that of a single CPU core, thereby decreasing the runtime for the non-bonded force calculations, such that it can compliment with bonded forces and PME long-range force calculations on that utilize the CPU.
System Specs: 2 x Intel Xeon Gold 6148 2.4GHz CPU, 192GB DDR4-2666, 3x480GB SSD w/RAID 0
GPU Used: NVIDIA Titan V 12GB
GPU Accelerated Computing in NAMD and VMD
NAMD users can easily perform simulations on large systems containing hundreds of thousands and even millions of atoms thanks to GPUs. The time-consuming non-bonded calculations on so many atoms can now be performed on a GPU at 20 times the speed of a single CPU core. VMD users can smoothly and interactively animate trajectories using visualization techniques such as the display of molecular orbitals or QuickSurf for surface representations. In the case of visualizing molecular orbitals, VMD's GPU algorithm obtains a 125× speedup over the CPU.

"GPU Accelerated Molecular Dynamics Simulation, Visualization, and Analysis"
Ivan Teo, et al. 2014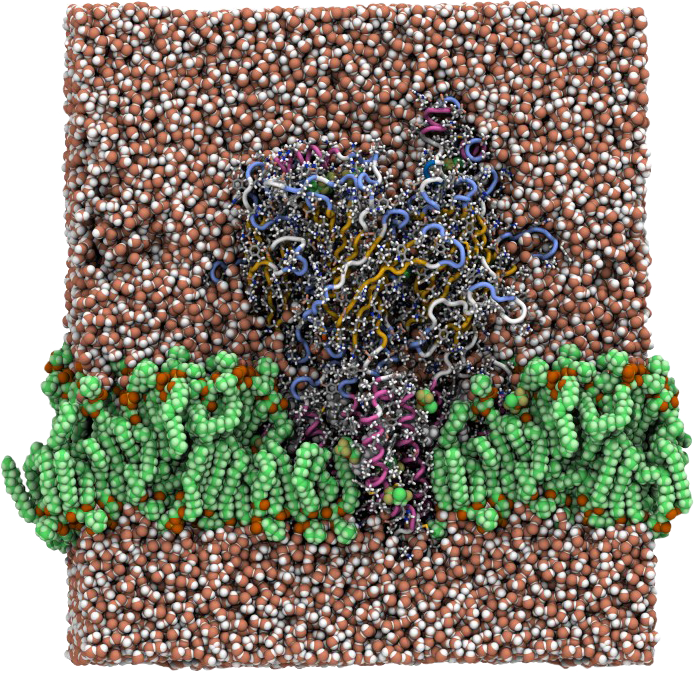 Bring Your MD into the Light with VMD and Ray Tracing
VMD is designed for modeling, visualization, and analysis of biological systems such as proteins, nucleic acids, lipid bilayer assemblies, etc. VMD includes a new built-in GPU-accelerated version of the Tachyon ray tracing engine, using NVIDIA CUDA and OptiX to achieve performance levels up to six times faster than the exisitng CPU versions of Tachyon. (Free User License Available from University of Illinois)
LEARN MORE