Matrox MVX-E6120-2 Maevex 6120 Dual 4K Enterprise Encoder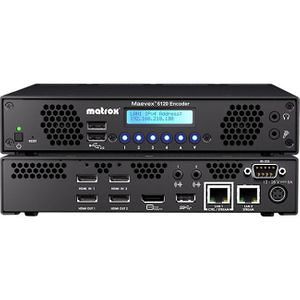 Highlights
Product Type: Video Encoder
Platform Supported: PC
Condition: New
Category: Computers and Portables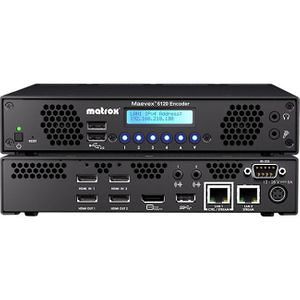 Matrox MVX-E6120-2 Maevex 6120 Dual 4K Enterprise Encoder
Highlights
Product Type: Video Encoder
Platform Supported: PC
Condition: New
Category: Computers and Portables
The Matrox Maevex 6120 appliance is part of the Maevex 6100 Series. Built on H.264, this plug-and-play solution fits seamlessly into existing infrastructures and interoperates with virtually any network device, ensuring high-density content distribution and system scalability. Flexible setup and management of all devices and features from one easy-to-use interface comes via complimentary Maevex PowerStream Plus software.
Industry-leading technology
The Maevex 6120 dual 4K enterprise encoder drives simultaneous dual 4K/UHD and Full HD capture, encode, stream, and record from a single standalone appliance. Integrating seamlessly with standard 1 Gigabit Ethernet networks, Maevex 6120 includes zero-latency pass-through for real-time output of audio/video content on up to two 4K displays.
An on-device LCD display shows device IP and stream addresses, system information, and other urgent content, allowing for easy installation and troubleshooting issues directly on the device. Adding a separate monitor allows for previewing media and ensuring content appears exactly as intended before transmission.
Six on-appliance buttons-to read and/or control the LCD display and start/stop streaming and recording functions-permit direct command execution in instances where software access is limited. Additional I/O for audio and USB connections ensures the functionality necessary for any installation.
Benefit from up to 4K/UHD 4:4:4 sub-sampling support plus H.264 capability for best-in-breed encoding. Maevex's versatile PowerStream Plus software controls multiple Maevex devices (both 6100 and 5100 Series) and supports multi-protocol and multi-bitrate streaming, chroma sub-sampling management, multiple Picture-in-Picture (PiP) and quadrant composite options, and more. The multi-chroma sub-sampling feature delivers 4:4:4, 4:2:2, 4:2:0, and 4:0:0 options, to best balance bitrate and compression demands of different encoding environments and markets.
Our technology promises unprecedented quality, without necessarily needing a dedicated distribution network; we use existing 1 Gigabit Ethernet infrastructure and expand its capabilities to allow for many streams of any quality to be transmitted on a single cable.

Flexible communication
The Maevex 6120 provides system independence and eliminates the need for additional equipment; simply place the appliance on the desktop, workstation, or rack, and it's ready to use.
Support up to two channels of 4K real-time encode/stream from a single, standalone appliance housed in a 1U ½ width. It also allows for 1U dual-density and up to eight 4K streams and recordings from a single U of rack space.