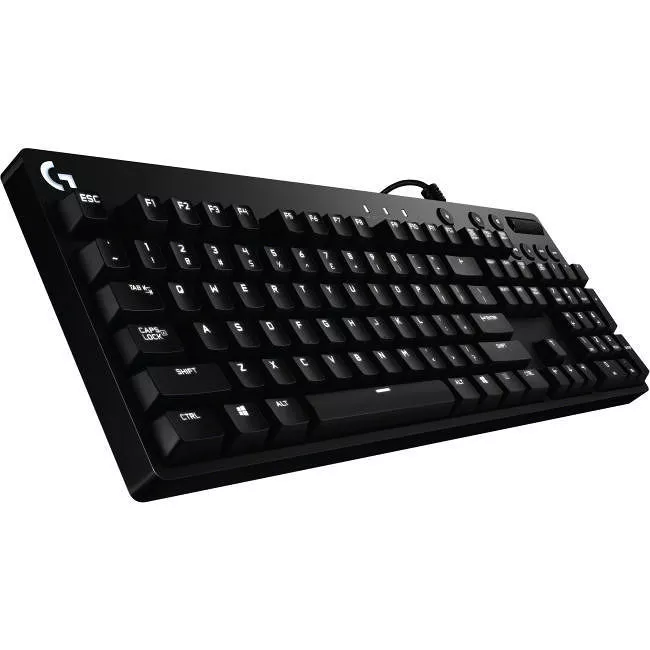 MPN: 920-007839
Logitech 920-007839 G610 Orion Red Backlit Mechanical Gaming Keyboard
BUILT FOR GAMING
Performance is our goal

G610 Orion Red integrates powerful gaming technologies into a performance-driven design. Expertly engineered G610 Red brings Logitech G's industry-leading construction quality and technology to this uniquely crafted keyboard. Every detail has been masterfully designed-fingerprint-masking matte texture, durable braided cable, and powerful features.

CHERRY MX RED MECHANICAL KEY SWITCHES
Time-honored Mechanical

Cherry MX mechanical switches are standard in mechanical keyboards. More consistent in feel and responsiveness, they last longer than rubber dome keyboards. These low-noise switches have a linear keypress for rapid-fire actuation. Cherry MX switches are rated to over 50 million keystrokes and actuate precisely for a reliable gaming experience.

LIGHT CUSTOMIZATION
Customizable Backlighting on every key

Choose your level of customization by selecting and personalizing each individual key light, using Logitech Gaming Software. Keep track of spells and other commands with light up keys. Logitech Gaming software can also synchronize light patterns with other Logitech G devices.

MEDIA CONTROL AT YOUR FINGERTIPS
Never miss a beat

Stay in your game while you control your background track. G610 Orion Red keyboards feature dedicated media controls that can be used to play, pause, and mute music and videos instantly. Skip to the next song with the touch of a button, or use the roller to adjust the volume,

CUSTOMIZE WITH LOGITECH GAMING SOFTWARE
Easy personalization

Gain full control of G610 with Logitech Gaming Software. Assign custom button macros on F1 through F12 to customize your favorite game. You also get full control of per-key backlighting and can customize which keys are turned off when you turn on game mode (by default, Game Mode disables the Windows key).

26-KEY ROLLOVER
Press all the buttons

Execute every complex move exactly right, every time with multi-key input. With 26-key rollover, you can press a huge number of keys plus modifier keys (Control, Alt, Shift) in any order and still get exactly what you intended.

THREE-POSITION HEIGHT ADJUSTMENT
Find your comfort zone

Three step angle adjustments allow you to set your keyboard to 0, 4, or 8 degrees for the angle right for you. Rubber feet keep your keyboard stable during intense gaming action.