Exxact TensorEX TWS-773645-ACW Ansys Electronics Suite Workstation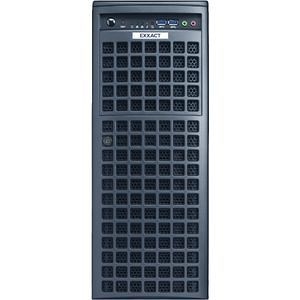 Highlights
Highest CPU cores with FP64 capable GPUs
Processor: 2x Intel Xeon Scalable family
Storage options up to 112TB
Scales up to 2x GPUs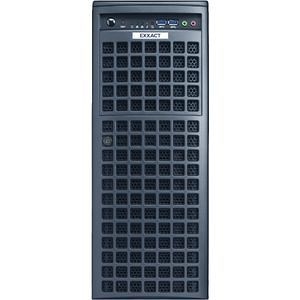 Exxact TensorEX TWS-773645-ACW Ansys Electronics Suite Workstation
Highlights
Highest CPU cores with FP64 capable GPUs
Processor: 2x Intel Xeon Scalable family
Storage options up to 112TB
Scales up to 2x GPUs
The TensorEX TWS-773645-ACW is a 4U rack mountable tower supporting 2x Intel Xeon processor Scalable family and a maximum of 2 TB DDR4 memory.
Solutions to make the impossible possible, right out of the box.
Whether you are a visionary seeking to solve the world's most meaningful problems, a team facing the increasing demand to streamline product development lifecycles, or an engineer looking to boost product performance, we empower you to make the impossible possible. We have combined optimized hardware and high-performance computing with the most comprehensive simulation suite to fit any business need. Our solutions are optimized for and preconfigured with Ansys simulation and job management software to provide an application-ready solution that takes the guess work out of deployment and environment setup.

We have worked hard to ensure engineering productivity out-of-the-box with improved user experiences, faster adoptions, and reduced learning times. We deliver the highest computational performance to accelerate computations in ANSYS software, enabling users to innovate products faster across the entire life cycle.
Structural Mechanics
Ansys® Mechanical® is a finite element analysis tool for structural analysis, including linear, nonlinear and dynamic studies. GPU support is available for the various solvers.
Design Impacts
Reducing turnaround time
More design evaluations per day
Simulating larger or more complex models
Advantages
Good scalability of distributed solvers up to 128 cores and above.
A large variety of structural analysis problems can benefit from hardware accelerators (i.e. NVIDIA GPUs). In addition to the sparse direct solvers, the PCG iterative solvers, for example, are also supported by GPUs.
Each HPC license can enable either a CPU core or a GPU socket (or coprocessor). This adds a lot of value to HPC in terms of flexibility and speed. Get the highest speedup with whatever combination of CPU cores and hardware accelerators is available.
Ansys provides flexible and scalable HPC licensing.
Fluid Dynamics
Ansys® Fluent® offers GPU support for pressure-based coupled solver and radiation heat transfer models that include viewfactor computations using the NVIDIA OptiX ray-tracing method and the Discrete Ordinates model. Other pressure-coupled solver-based fluid solutions where GPU acceleration is supported include Ansys Polyflow for polymer and glass processing with as many as 10 million elements and Ansys Icepak for electronics cooling simulation.
Design Impacts
Reducing turnaround time
Increasing high-fidelity insight
Increasing the number of design variants
Advantages
Proven parallel scalability.
Operates at 80-plus percent efficiency — even with the highest core counts.
Optimized to run on the latest HPC architectures, including NVIDIA GPUs and Intel True Scale Fabric products.
Ansys Fluent's parallel meshing offers dramatic reductions in meshing time. For example, A 42- million cell mesh using eight CPU cores can be meshed more than seven times faster than if a single CPU core were used. Note: This capability does not require HPC licenses.
Electronics
Ansys offers a suite of programs to support every level of electronics design.
Ansys HFSS for both frequency and time-domain electromagnetic analysis.
Ansys HFSS SBR+ solvers for installed antenna performance simulations.
Ansys EMIT for radio frequency interference (RFI) in complex environments.
Ansys DesignerSI for signal-integrity, power-integrity and EMI analysis.
Ansys Maxwell for designing and analyzing 2-D and 3-D low-frequency electromagnetic and electromechanical devices. These include motors, actuators, transformers, sensors and coils. Maxwell3D QS and Maxwell3D includes GPU-accelerated eddy current solver. The 3D eddy current solver computes steady-state, time-varying (AC) magnetic fields at a given frequency.
How we bring it all together.
Choosing the right hardware for ANSYS tools impacts model size, performance, and user experience. At Exxact, we understand this makes all the difference. We have experienced Sale Engineers at your fingertips to help guide you through the decision making so that your choices are worth the cost of ownership.
| | |
| --- | --- |
| RAM | Important in determining the maximum model size that can be solved. |
| CPU | A high core count and clock speed determines how quickly a model can be solved. |
| Storage | Important in determining how much data can be held on the system and the speed of I/O. |
| Graphics | GPU graphics cards are recommended to prevent display latency and interact seamlessly with complex models while providing an excellent visual experience. |
| GPU | ANSYS applications can take advantage of dedicated GPU hardware to provide faster performance during solution. |
| Interconnects | Enable the parallel usage of nodes (clustering) with high-speed interconnects, such as Mellanox Infiniband. |
All our systems are hand-built to order by our team of expert engineers. Qualified and performance validated, each system is carefully tested for ultra-performance, endurance, and reliability and comes with 3-year warranty and lifetime tech support.