Exxact TensorEX TS4-144580094-ISS 10U 2x Intel Xeon processor server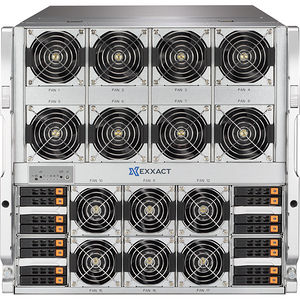 Highlights
Rack Height: 10U
Processor Supported: 2x Intel Xeon Scalable family
Drive Bays: 16x 2.5" Hot-Swap NVMe
Supports 16x NVIDIA Tesla V100 32 GB SXM3 GPUs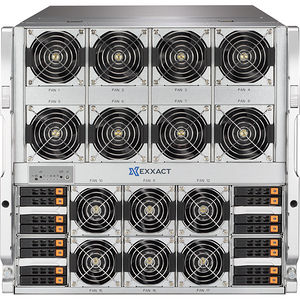 Exxact TensorEX TS4-144580094-ISS 10U 2x Intel Xeon processor server
Highlights
Rack Height: 10U
Processor Supported: 2x Intel Xeon Scalable family
Drive Bays: 16x 2.5" Hot-Swap NVMe
Supports 16x NVIDIA Tesla V100 32 GB SXM3 GPUs
Based on the NVIDIA HGX-2 platform, the TensorEX TS4-144580094-ISS is accelerated by 16 NVIDIA® Tesla® V100 GPUs and NVIDIA NVSwitch™, It has the unprecedented compute power, bandwidth, and memory topology to train massive models, analyze datasets, and solve simulations faster and more efficiently. The 16 Tesla V100 GPUs work as a single unified 2-petaFLOP accelerator with half a terabyte (TB) of total GPU memory, allowing it to handle the most computationally intensive workloads.
Key Features
16x NVIDIA Tesla V100 SXM3
81,920 NVIDIA CUDA Cores
10,240 NVIDIA Tensor Cores
0.5TB Total GPU Memory
NVSwitch powered by NVLink 2.4TB/sec aggregate speed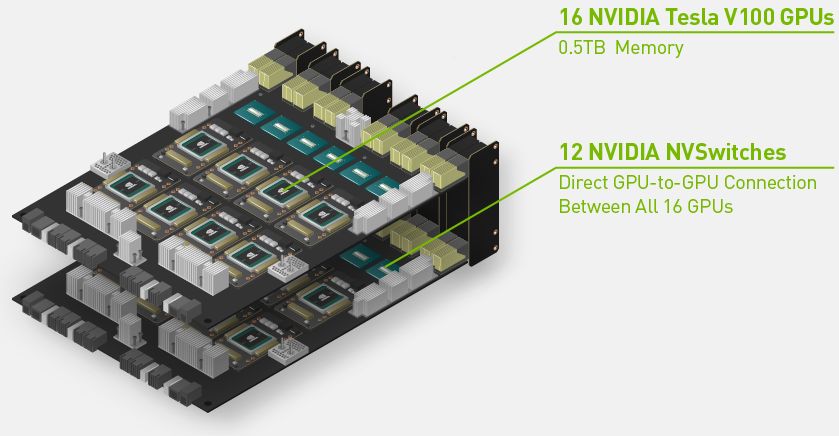 NVIDIA NVSwitch for Full Bandwidth Computing
NVSwitch enables every GPU to communicate with every other GPU at full bandwidth of 2.4TB/sec to solve the largest of AI and HPC problems. Every GPU has full access to 0.5TB of aggregate HBM2 memory at a bandwidth of 16TB/s to handle the most massive of datasets. By enabling a unified server node, NVSwitch dramatically accelerates complex AI deep learning, AI machine learning, and HPC applications.