ASUSTOR AS6212RD SAN/NAS Storage System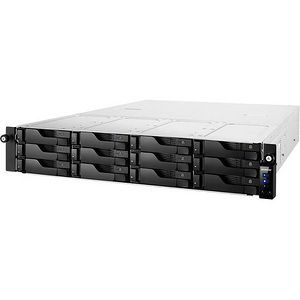 Highlights
Number of Total Expansion Bays: 12
Ethernet Technology: Gigabit Ethernet
Network (RJ-45): Yes
Processor Core: Quad-core (4 Core)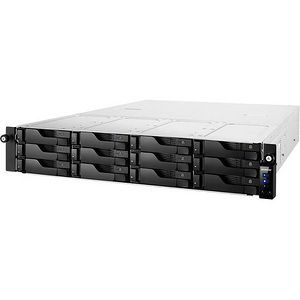 ASUSTOR AS6212RD SAN/NAS Storage System
Highlights
Number of Total Expansion Bays: 12
Ethernet Technology: Gigabit Ethernet
Network (RJ-45): Yes
Processor Core: Quad-core (4 Core)
AS6212RD

Create 120 TB High Capacity Enterprise-Class Storage
Complete iSCSI/IP-SAN and NFS support. VMware, Citrix and Hyper-V ready
Equipped with an Intel Celeron quad-core processor
Windows + Mac + Linux cross-platform file sharing
Windows ACL support combined with Windows AD infrastructure enhances management efficiency for business applications
Support for RAID 0,1,5,6,10 and hard drive hot swapping
New disk tray locks ensure that hard disks will not be accidentally ejected during operation
Military grade AES 256-bit encryption
SMB 2/3 support increases Windows networking performance by 30%-50%
Uninterruptible dual power supply
High capacity cloud storage for all your digital assets
The AS6212RD is a cost-effective large capacity NAS designed for enterprise environments. Users can install twelve 10 TB hard disks to immediately create a high capacity storage space of up to 120 TB. The AS6204RS/AS6204RD supports online capacity expansion, allowing for the flexible purchase of enterprise storage equipment. When your budget and storage requirements are smaller, you can purchase a smaller number of hard disks. Additional disks can be purchased as your storage requirements grow. Combined with ASUSTOR's MyArchive storage technology, this allows you to effectively achieve unlimited storage.
Secure Disk Tray Lock Design
In order to help users avoid accidentally pushing disk tray buttons and releasing hard disks during operation, ASUSTOR has added a new lock mechanism to its hard disk trays. The lock's flat-head design ensures that users will not need any special keys or tools to unlock it, only a simple flat-head screw driver. The new disks trays can be used with all ASUSTOR NAS devices, providing an additional layer of security for applications requiring the frequent swapping of hard disks (e.g., MyArchive).
Enterprise Backup
The AS6212RD features comprehensive backup solutions. The built-in redundant power supply and 4 Gigabit Ethernet ports effectively increase reliability, data integrity and execution speeds. The Ethernet ports and power supply all feature failover capabilities (when one fails, the other can continue to operate) in order to ensure for continuous data availability.
Find Me Function and Service Light for Server Rooms
In enterprise environments, storage devices are commonly placed together in a server room. In order to allow administrators to quickly find the NAS from among many servers the AS6212RD provides a dedicated button on front panel. When this button is pressed, the LED service light on the rear panel of the NAS will light up. ASUSTOR also offers the mobile NAS management app, AiMaster which provides the exclusive Find Me function. When Find Me is activated, the system status light on the front of the NAS will flash and the system buzzer will sound, helping users to quickly find the NAS.


iSCSI and Virtualization
ASUSTOR recognizes that stable and efficient shared storage is a must for your virtual environment. The supported use of iSCSI and NFS allows you to seamlessly integrate with any existing IT environments. Additionally, all ASUSTOR NAS devices are verified as VMware, Citrix and Hyper-V ready, providing you with a flexible and cost-efficient virtual storage solution.
The iSCSI features supported by ASUSTOR NAS devices include:
-LUN Mapping
- LUN Masking
- ISO File Mounting
- MPIO Support
- Persistent (SCSI-3) Reservations