ASUS RX5700XT-8G AMD Radeon RX 5700 XT Graphic Card - 8 GB GDDR6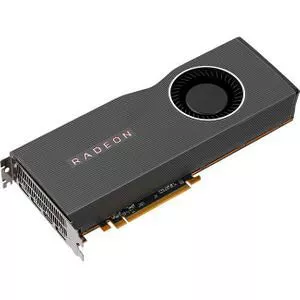 Highlights
Standard Memory: 8 GB
HDMI: Yes
GPU Clock: 1.61 GHz
Number of Monitors Supported: 6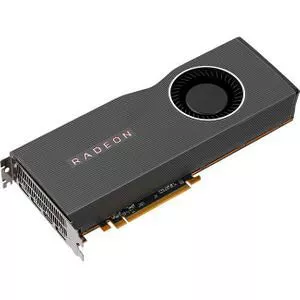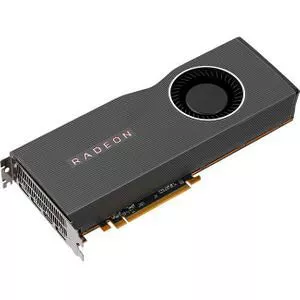 ASUS RX5700XT-8G AMD Radeon RX 5700 XT Graphic Card - 8 GB GDDR6
Highlights
Standard Memory: 8 GB
HDMI: Yes
GPU Clock: 1.61 GHz
Number of Monitors Supported: 6
The AMD Radeon™ RX 5700 XT bends the rules of 1440p gaming with RDNA architecture on a 7nm process.
RDNA Architecture is built with a 7nm process and includes 40 redesigned compute units and up to 4x IPC improvement.
Purpose-built for 1440p gaming
Redesigned shroud with machined accents and airflow-directing contours.
Game-changing technology like Radeon™ Image Sharpening, FidelityFX, TressFX, and TrueAudio Next improve in-game performance and image quality.
AMD FreeSync™ offers stutter-free and tear-free gaming.
Radeon Software includes 0-day updates and a host of tools to customize the gaming experience.
GPU Tweak II provides intuitive performance tweaking, thermal controls, and system monitoring.
Bending the Rules
Great gaming experiences are created by bending the rules. The AMD Radeon™ RX 5700 Series GPUs defy conventions with an all-new 7nm process infused with RDNA architecture that is specifically tuned for the perfect 1440p gaming experience. More efficient processing power handles advanced 3D effects with ease, and 8GB of high-speed GDDR6 VRAM provides ample storage for the detailed textures, meshes, and effects of modern games. Industry-leading software and frequent driver upgrades push the experience even further, enabling overclocking, gameplay recording, and more.
RDNA Architecture
7nm gains
The Radeon RX 5700 Series GPUs are powered by RDNA architecture, the heart of AMD's new 7nm process. RDNA features up to 40 redesigned compute units that deliver incredible performance and up to 4x IPC improvement. This translates to greatly improved performance for visual effects such as volumetric lighting, blur effects, and depth of field. The architecture also enables DisplayPort 1.4 with Display Stream Compression (DSC), which work with compatible displays to allow 4k gaming at extreme fresh rates without chroma subsampling.
AMD Radeon™ Software Adrenalin 2019 Edition
Hardcore software
Radeon Software is a powerful hub that provides tools to customize in-game aesthetics, record gameplay, tweak performance, update drivers, and much more. The latest edition features Radeon™ Anti-Lag, a new technology that reduces input lag, effectively increasing the response time of the game and offering a significant competitive advantage in many titles.
GPU Tweak II
Monitor, tweak, and tune
The ASUS GPU Tweak II utility takes graphics card tuning to the next level. It allows you to tweak critical parameters including GPU core clocks, memory frequency, and voltage settings, with the option to monitor everything in real-time through a customizable on-screen display. Advanced fan control is also included along with many more features to help you get the most out of your graphics card.
XSplit
Premium streaming
XSplit offers a premium streaming experience with in-game annotations and other advanced features. Enjoy a free license with the purchase of select ASUS graphics cards. See you online!
wtfast
Play lag-free
We've partnered with wtfast to help you to play free from lag, latency issues, and lost packets. With a 6-month subscription to the wtfast Gamers Private Network, you'll enjoy lower ping for a smoother, more fluid online gaming experience. Buy an ASUS graphics card - and don't be left waiting!