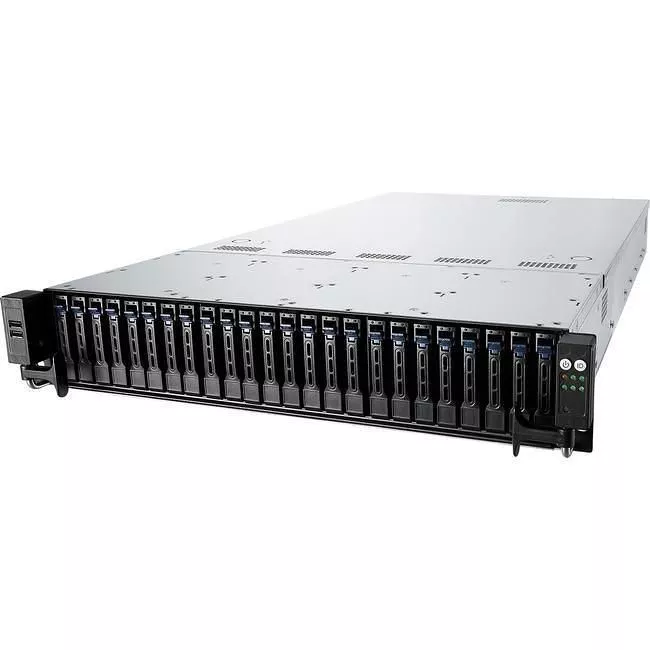 MPN: RS720-E9-RS24-E
ASUS RS720-E9-RS24-E 2U Server Barebone - 2x LGA 3647 - Intel C621 - 24x 2.5" Drive Bay
High performance 2U server with 24 SAS/SATA drive support
Powered by the latest 2nd Gen Intel Xeon Scalable processors
205W CPU with 24 DIMM support
Scalable design for growing workloads with 24 SATA/SAS HDDs, dual PCIe or SATA M.2, and 8 PCIe Gen3 x16 slots
Ultrafast connectivity with an OCP 2.0 Mezzanine card for HPC applications
Exclusive thermal radar technology for energy efficiency - Reduces fan power-consumption by up to 20%
High power-efficiency with 800W and 1200W 80 Plus Platinum power supply
Easy maintenance and debugging - Internal USB 3.0 port and microSD card support for easier access
Complete IT infrastructure management with ASMB9 out-of-band remote management and in-band ASUS Control Center
Powered by the latest 2nd Gen Intel Xeon Scalable processors
RS720-E9-RS24-E is built on the latest 2nd Gen Intel Xeon Scalable processors to deliver incredible 2U server performance, packing incredible power into minimal space. RS720-E9-RS24-E offers breakthrough performance with the latest Intel Optane™ DC persistent memory with an over 88% gain in input/output operations per second (IOPS) compared with the same configuration in SSD. Featuring the latest Intel Deep Learning Boost technology to enhance deep learning capabilities, RS720-E9-RS24-E achieves a 3.1X performance improvement in the ResNet-50 and SSD VGG-16 models, fully demonstrating the inference capability of the new platform.
Scalable Design for Growing Workloads
RS720-E9-RS24-E is designed for easy scalability to fit growing businesses and multiple workloads. It is available with a choice of six PCIe Gen3 x8 link or three PCIe Gen3 x16 links one full height half length PCIe x8 link slot for an HBA/RAID card and one low profile PCIe Gen3 x16 link for additional NIC and InfiniBand (IB) cards.
Ultrafast Connectivity for HPC Applications
RS720-E9-RS24-E features two embedded 1 Gigabit Ethernet ports and supports up to 100 Gigabit interconnect speeds with the addition of PCIe adapter cards for ultrafast connectivity. Additionally, it supports one OCP 2.0 Mezzanine card (Gen3 x16 link) for HPC applications that require high-bandwidth, low-latency network support to connect multiple nodes and clusters.
Exclusive Performance Boost technology
ASUS servers feature exclusive Performance Boost technology to achieve the best server performance and agility by tuning servers to match the requirements of workloads, letting you gain greater control of your server environment. This technology improves workload throughput by maximizing processor frequency and boost power, ideal for time-sensitive applications such as financial services or data center operations. In the BIOS you can choose from pre-configured server profiles optimized for specific workloads, maximizing overall performance and reducing server-configuration time.
Exclusive Thermal Radar technology for energy efficiency
RS720-E9-RS24-E features ASUS-exclusive Thermal Radar technology with ambient sensors placed in CPU, memory, NVMe, SSD, OCP mezzanine connector for internal and external temperature monitoring, and dynamic fan-curve adjustment, which lowers fan power consumption by up to 20% and reduces total cost of ownership - ideal for data centers with extreme workloads.
Redundant Platinum PSU support
800W 80 Plus Platinum power supply for dual 145W CPU configuration ; 1200W 80 Plus Platinum power supply for dual 205W CPU configuration to deliver with 94%+ efficiency and directly reduce operating costs.