ASUS PG27VQ Swift 27" LED LCD Monitor - 16:9 - 1 ms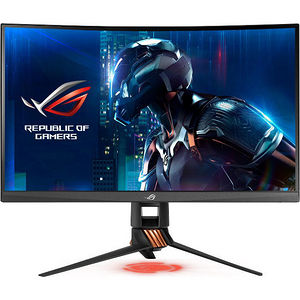 Highlights
Maximum Resolution: 2560 x 1440
Brightness: 400 Nit
Product Type: Gaming LCD Monitor
Condition: New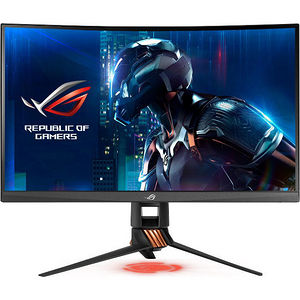 ASUS PG27VQ Swift 27" LED LCD Monitor - 16:9 - 1 ms
Highlights
Maximum Resolution: 2560 x 1440
Brightness: 400 Nit
Product Type: Gaming LCD Monitor
Condition: New
ROG Swift PG27VQ Curved Gaming Monitor - 27 inch 2K WQHD (2560x1440), overclockable 165Hz, 1ms, G-SYNC, Aura Sync Technology
27 inch 1800R curved gaming monitor with ultra-fast overclockable 165Hz refresh rate & 1ms response time designed for professional gamers and immersive gameplay
NVIDIA G-SYNC™ Technology for no-tearing visuals and lightning-fast 1ms response time for blur-free graphics
ASUS Aura Sync lighting technology provides the ambient lighting to achieve perfect synchronization with Aura-enabled components and peripherals
Features an ergonomically designed stand to offer extensive swivel, tilt, and height adjustment
WORLD'S MOST RESPONSIVE CURVED GAMING MONITOR

ROG Swift PG27VQ is a 27 1440p curved gaming monitor with a 1ms response time - making it the world's most responsive curved monitor.
Blending fluid graphics and gorgeous gaming aesthetics to offer the absolute best gaming experiences for professional gamers, ROG Swift PG27VQ features an overclockable 165hz and NVIDIA G-SYNC™ technology for incredibly smooth gameplay without tearing or stuttering, and it includes integrated ASUS Aura Sync lighting to add personality to your gaming setup.
MESMERIZING FROM ALL ANGLES
AURA SYNC LIGHTING

With exclusive ASUS Aura Sync lighting technology, Swift PG27VQ provides ambient lighting that can be synchronized with other Aura-enabled components and peripherals.
To achieve perfect synchronization, simply connect ROG Swift PG27VQ to other peripherals by installing the Aura Sync software on your laptop or desktop. Enjoy the coolest and most stylish backdrop for any gaming setup, and have all lights pulsing to the beat of your favorite music or game sound effects.
AN IMMERSIVE GAMING ARENA

EXPERIENCE THE CURVE

ROG Swift PG27VQ is a 27-inch curved gaming monitor with WQHD (2560 x 1440) resolution. The 1800R panel curvature ensures that every point on the display is equidistant to your eyes, providing a comfortable viewing experience that's perfect for productivity or marathon gaming sessions!
SEAMLESS GAMEPLAY
ULTRAFAST 165HZ REFRESH RATE

With an astonishing overclockable 165Hz refresh rate, fast-moving visuals pose no problem for ROG Swift PG27VQ. There's no frustrating lag or motion blur, so you get the upper hand in first-person shooters, racing, real-time strategy and sports titles. You'll enjoy silky-smooth gameplay even at the highest visual settings, allowing you to react instantly to what's happening onscreen so you'll get that first strike in.
NVIDIA G-SYNC™ TECHNOLOGY

Pairing the 165Hz refresh rate with NVIDIA G-SYNC™ technology results in the smoothest, fastest, most breathtaking gaming imaginable. G-SYNC™ synchronizes ROG Swift PG27VQ's refresh rate to the GeForce® GTX graphics card in your PC or laptop to eliminate screen tearing and minimize display stutter.
RAPID 1MS RESPONSE TIME AND NVIDIA ULTRA LOW MOTION BLUR
ROG Swift PG27VQ is the fastest display in its class with a rapid 1ms gray-to-gray response time. Combined with NVIDIA Ultra Low Motion Blur technology, objects in motion remain perfectly sharp, making your gameplay more fluid and responsive. This is especially useful in fast-paced games - so you can take corners like a pro racer or make that impossible headshot with ease!