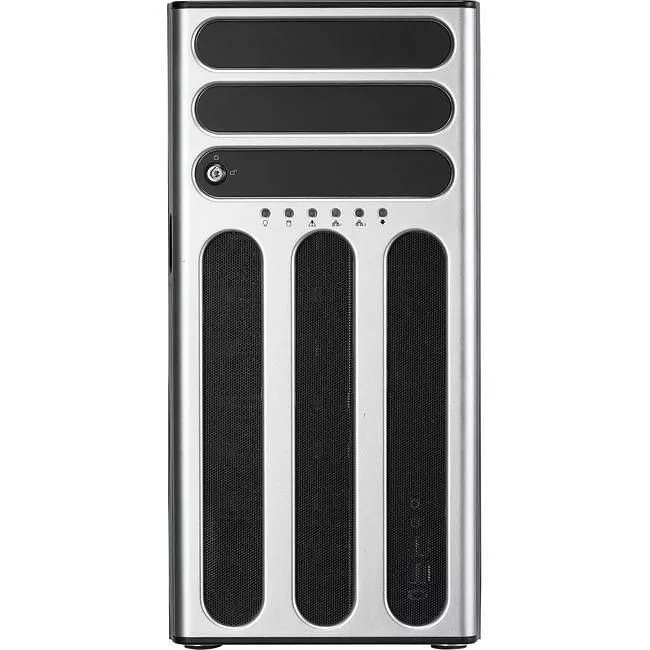 MPN: 90SF00K1-M01570
ASUS 90SF00K1-M01570 TS700-E9-RS8 5U Tower Barebone - Intel C621 Chipset - Dual Socket P LGA-3647
No.1 Performance in industry-standard SPEC benchmarks
ASUS servers feature exclusive Performance Boost technology to achieve the best server performance and agility by tuning servers to match the requirements of workloads, letting you gain greater control of your server environment. This technology improves workload throughput by maximizing processor frequency and boost power, ideal for time-sensitive applications such as financial services or data center operations. In the BIOS you can choose from pre-configured server profiles optimized for specific workloads, maximizing overall performance and reducing server-configuration time.
Flexible design for office and data center environments
TS700-E9-RS8 features a flexible design that fits in both office and data-center environments. Its server rail kit enables easy integration into a data-center rack server, making TS700-E9-RS8 a perfect choice for system administrators who value easy upgradeability and deployment.
Tool-less component replacement design for hassle-free maintenance
TS700-E9-RS8 features an easy-to-service design that helps maximize system uptime by enabling system administrators to perform maintenance and upgrade system components easily with no tools required to replace the system components, including HDD module cage, 5.25-inch drive, and front and rear system fans.
Platinum PSU support
TS700-E9-RS8 supports redundant 800W 80 Plus Platinum power supply, which are 96%+ efficient, directly reducing operating costs and capital expenses. The 1+1 power-supply design allows the server to keep working even if one power supply requires maintenance, enabling uninterrupted operation.
High expandability and scalability
Seven PCIe slots and support for optional ASUS PIKE II add-on cards, including HAB/RAID and 10G LAN cards, ensures great expandability and scalability for a diverse array of storage and networking applications.
Exclusive Thermal Radar Technology for Energy Efficiency
TS700-E9-RS8 features ASUS-exclusive Thermal Radar technology with ambient sensors for internal and external temperature monitoring, and dynamic fan-curve adjustment, which lowers fan power consumption by up to 20% and reduces total cost of ownership - ideal for data centers with extreme workloads.
Multiple graphics card support
TS700-E9-RS8 accommodates two dual-slot graphics cards with a two true PCIe 3.0 x16 links to unleash maximum graphic performance. With support for NVIDIA Quadro and AMD CrossFireX configurations, TS700-E9-RS8 is an excellent choice for content creators, mechanical or architectural engineers, and anyone with processing-intensive workloads.
Supports up to 12 DDR4 ECC memory
TS700-E9-RS8 supports up to 12 DDR4 error-correcting code (ECC) memory modules to ensure fast and responsive system performance, even when simultaneously running multiple RAM-intensive applications, such as video, audio and image editing programs.
Comprehensive IT Infrastructure Management
TS700-E9-RS8 offers optional choice of iKVM module and is bundled with ASUS Control Center to provide comprehensive out-of-band and in-band management features for small and mid-size businesses.
The ASMB9-iKVM module supports remote BIOS updates, fan control, standalone KVMs, video recording, and BSOD capture, providing around-the-clock remote monitoring and diagnostics - even if the operating system is down or offline - through a user-friendly, web-based graphical interface that works with all major browsers.