Exxact AMD EPYC Solutions
EPYC HPC
AMD's state-of-the-art GPUs combined with EPYC provide excellent solutions for your most demanding HPC applications.
EPYC MACHINE LEARNING
A solid foundation for ML applications such as proactive maintenance, fraud detection, network security monitoring, real-time trading and self-driving vehicles.
EPYC STORAGE
Natively supports up to 32 NVMe or SATA devices in both 1 socket and 2 socket designs, enabling streamlined Software Defined and Direct Attached Storage solutions.
CLOUD & VIRTUALIZATION
Whether you are deploying a single server, private cloud or a hybrid cloud, provides the perfect balance of compute, memory, I/O and security.
DATA MANAGEMENT & ANALYTICS
EPYC can help accelerate Big Data and In-Memory DB applications, to manage and analyze massive amounts of unstructured data.
VIRTUAL DESKTOP INFRASTRUCTURE
VDI enhances centralized control and protection over business-critical data while supporting collaboration.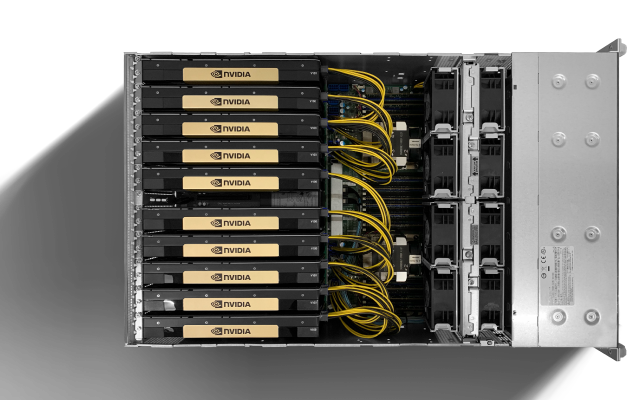 AMD EPYC - Powering the Modern Datacenter
The modern datacenter needs more cores, more memory, more I/O, and more security. AMD EPYC powers the datacenter with 32 cores, 64 threads, 8 memory channels with up to 2 TB of memory per socket, and 128 PCIe-3 lanes coupled with the industry's first hardware-embedded x86 server security solution.

With servers built on EPYC technology, cloud environments can drive greater scale and performance, virtualized datacenters can further increase consolidation ratios while delivering better performing virtual machines and Big Data, and analytics environments can collect and analyze larger data sets much faster. High performance applications in research labs can solve complex problem sets in a significantly accelerated manner. EPYC, with all the critical compute, memory, I/O, and security resources brought together in the SoC with the right ratios, delivers industry-leading performance and enables lower TCO.

As an AMD Elite Partner, Exxact Corporation works closely with AMD to ensure seamless factory development and support. We pride ourselves on providing value-added service standards unmatched by our competitors.