AKiTiO T3Q-T3DIAS-AKTU Thunder3 Quad Drive Enclosure - Desktop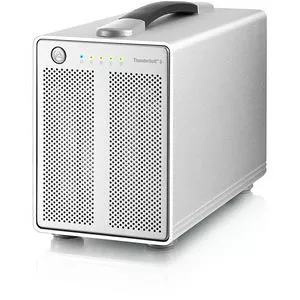 Highlights
Depth: 9.5
Number of Total Expansion Bays: 4
Product Type: Drive Enclosure
Condition: New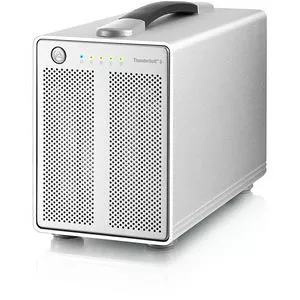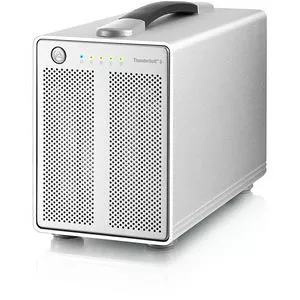 AKiTiO T3Q-T3DIAS-AKTU Thunder3 Quad Drive Enclosure - Desktop
Highlights
Depth: 9.5
Number of Total Expansion Bays: 4
Product Type: Drive Enclosure
Condition: New
AKiTiO Thunder3 Quad

External Thunderbolt™ 3 Storage Solution
This 4-bay storage enclosure is designed to house up to four 2.5-inch or 3.5-inch drives. With Software RAID, four striped SSD's can reach data transfer speeds of up to 1375 MB per second while the Thunderbolt 3 interface provides sufficient bandwidth for additional 4K video signal streams and data transfers at the same time. An ultra durable aluminum casing provides efficient heat dissipation, plus an extra large rear fan keeps your drives cool during long hours of operation.
Features
Thunderbolt 3 interface for lightning fast transfer speeds up to 40 Gbps
Second Thunderbolt 3 port supports Thunderbolt 3, USB 3.1 (10 Gbps), and DisplayPort devices
Dedicated DisplayPort for additional monitor to expand the workspace
Large and quiet low speed fan (1900 RPM) for active cooling
Large handle provides comfortable grip when carrying the device
Removable trays for easy SSD and HDD installation
Kensington security slot
Thunderbolt Connectivity


Thunderbolt™ 3
Thunderbolt 3 brings Thunderbolt to USB-C at speeds up to 40 Gbps, creating one compact port that does it all - delivering the fastest, most versatile connection to any dock, display, or data device. For the first time, one computer port connects to Thunderbolt devices, every display, and billions of USB devices. A single cable now provides four times the data and twice the video bandwidth of any other cable, while also supplying power to bus-powered devices.
The AKiTiO Thunder3 Quad has two Thunderbolt 3 ports. The second port operates the same as a Thunderbolt 3 computer port by supporting Thunderbolt 3 (up to 5 daisy chained), USB 3.1 (10 Gbps), and DisplayPort devices.
DisplayPort
The dedicated DisplayPort connector makes it easy to connect an additional monitor to extend your workspace and it will free up the second Thunderbolt 3 port for other Thunderbolt 3 (up to 5 daisy chained), USB 3.1 (10 Gbps), and DisplayPort devices.
4-Bay Storage Solution
Removeable trays
Designed to house up to four 2.5-inch or 3.5-inch drives, the tray based system allows for easy installation and replacement of either the large desktop hard disk drives or the portable laptop drives and SSD's.
Secure Connection
With the 6-pin Mini-Fit Jr.™ power connector, the power cable is held in place securely to avoid accidental disconnection of the device and to prevent subsequent data loss.
Benchmark
With Software RAID, the AKiTiO Thunder3 Quad provides users the ability to edit and playback multiple streams of HD and/or 4K content with enough headroom to simultaneously daisy-chain additional monitors and storage devices.
The transfer speeds for this benchmark were obtained using the AJA System Test tool with 1GB test files at 5K resolution. These results closely reflect the real-world performance but the actual transfer rates can vary depending on the test environment
For traditional spinning hard disk drives, the maximum transfer rate for a single drive (Non-RAID) is around 200 MB/s. Only when used in a striped RAID set can the transfer rates exceed 200 MB/s.
For solid state drives, the maximum transfer speed is limited by the PCIe to SATA controller to around 370 MB/s per drive. Because of this limitation, the maximum transfer rate for a striped RAID with four drives is about 1375 MB/s, even though the Thunderbolt 3 interface is capable of speeds faster than that.