AJA CORVID 88-T Standard-Profile 8-lane PCIe, 8x SDI Independently Configurable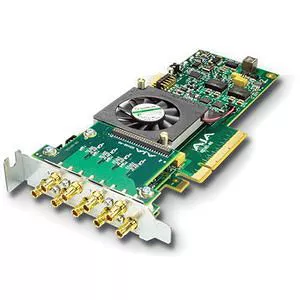 Highlights
Product Type: Video Capturing Device
Maximum Resolution: 4096 x 2160
Host Interface: PCI Express 2.0 x8
Form Factor: Plug-in Card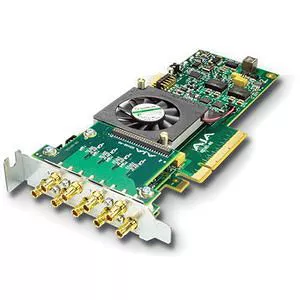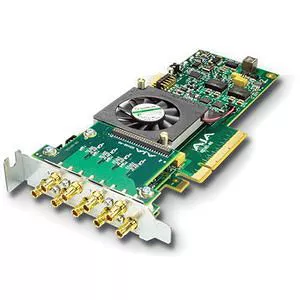 AJA CORVID 88-T Standard-Profile 8-lane PCIe, 8x SDI Independently Configurable
Highlights
Product Type: Video Capturing Device
Maximum Resolution: 4096 x 2160
Host Interface: PCI Express 2.0 x8
Form Factor: Plug-in Card
Maximize your video and audio I/O capacity with Corvid 88. Configure each SDI connection individually as input or output and mix formats for up to eight HD or SD channels on a single card. As demand rises for higher resolutions, combine SDI connections for multiple 4K/UltraHD channels allowing incredible flexibility and futureproofing with playout and ingest servers or channel-in-a-box systems.
Multi-Stream, Multi-Format PCIe I/O Card
Corvid 88 allows AJA Developer Partner applications to access up to eight simultaneous input and output streams on a single PCIe card, making it perfect for ingest and playout servers as well as channel-in-a-box systems.
High Density Ingest and Output
Each BNC connection on Corvid 88 can be set programmatically as either an input or output and each can support a different video format, provided all format use the same clock timing. Connections can also be linked together to support dual link or 4K/UltraHD formats.
High Frame Rate Support
Corvid 88 supports 4K (4096 x 2160) and UltraHD (3840 x 2160) High Frame Rate (HFR) workflows. Working at frame rates of 48p, 50p and 60p ensure smooth motion for the most demanding 4K and UltraHD applications.
High frame rates are not limited to 4K and UltraHD with Corvid 88, multiple 720p and 1080p HD inputs and outputs are also supported at frame rates up to 50p and 60p, making Corvid 88 extremely flexible for your current and future needs.
LTC and Reference Input
Corvid 88 provides one external, switchable LTC/Reference Input connection on the back of the card. A second LTC input is available on an internal header for providing additional reference to Corvid 88.
RS-422
A built-in RS-422 connection is available either as an external connection on the full-sized Corvid 88 or as an internal connection on the low profile Corvid 88. RS-422 allows control of external devices for frame accurate ingest and layoffs.
Features at a Glance
PCIe Express Gen 2.0 8-lane
Up to eight independent* channels 3G, HD, SD-SDI I/O
All SD/HD/2Kx1080/4K video formats
3G input/output for High Frame Rate (HFR) support.
8/10-bit YCbCr and 12-bit RGB frame buffer formats
4 independent Mixer/Keyer widgets.
8 independent 16-Ch 48 kHz SDI embedded audio I/O engines
Analog Color Black or HD Tri-Level Sync
Three year warranty
Corvid 88 is now available in a Fanless version for sound sensitive environments.
Processing
8 - Frame Stores (In or Out)
8 - Color Space Converters
4 - Mixer/Keyer widgets
8 - 1D LUTs
8 - Dual Link In
8 - Dual Link Out
8 - Independent 16-Ch embedded audio engines
Powerful Platforms for Development Partners
AJA's Developer Program allows partner companies to incorporate AJA products into their systems. By utilizing existing, proven video I/O devices, Developer Partners leverage AJA's expertise to develop and support these technologies, saving money and getting their integrated products to market more quickly.