TYAN B7105F48TV4HR-2T-N Thunder HX FT48T-B7105 4U Barebone - C621 Chipset - 5x GPU - LGA3647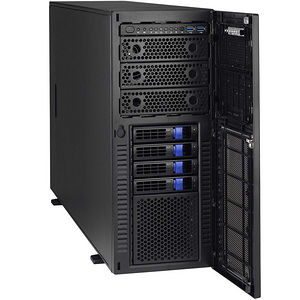 Highlights
Number of Processors Supported: 2
Processor Socket: Socket P LGA-3647
Maximum Memory: 1.50 TB
Memory Standard: DDR4-2666/PC4-21300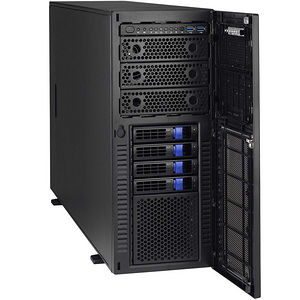 TYAN B7105F48TV4HR-2T-N Thunder HX FT48T-B7105 4U Barebone - C621 Chipset - 5x GPU - LGA3647
Highlights
Number of Processors Supported: 2
Processor Socket: Socket P LGA-3647
Maximum Memory: 1.50 TB
Memory Standard: DDR4-2666/PC4-21300
Tyan Thunder HX FT48T-B71055-GPU 4U Tower Server
The Thunder HX FT48T-B7105 is the newest generation of Tyan's 4U 5GPU tower server platform based on the new Intel Xeon Scalable Processor Family. TYAN's 5-GPU platform helps reduce rack space requirements, required for high performance applications. With the right workload, this platform can offer higher performance and reduce power consumption when compared to traditional CPU centric platforms. With support for NVIDIA Tesla GPUs, TYAN's GPU computing platform offers massively parallel compute power to solve the most computaitonally-intensive challenges.
Xeon Scalable Processor Family
The new Xeon Scalable Processor is Intel's largest advancement in a decade and brings many new features and capabilities:
Dual-Socket Intel Xeon Scalable Processors
Support up to 28 / Cores /56 Threads CPU
Memory speeds up to DDR4-2667 (depending on CPU SKU)
5-GPU Support
The new Xeon Scalable Processor Family increases the amount of PCIe lanes available in a system. The mechanical design of the B7105 chassis allows expansion cards to fully utilize the 4U enclosure, allowing the HX FT48T-B7105 to deploy the widest range of accelerator cards in the industry.The HX FT48T-B7105 takes full advantage of this and increases total expansion capability and supporting up to 5 GPU cards.