NVIDIA 900-2G183-0000-000 Tesla T4 PCIe 16 GB GDDR6 Passive GPU Low Profile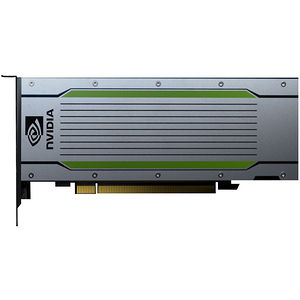 Highlights
Standard Memory: 16 GB
Cooler Type: Passive Cooler
Product Type: Graphic Card
Condition: New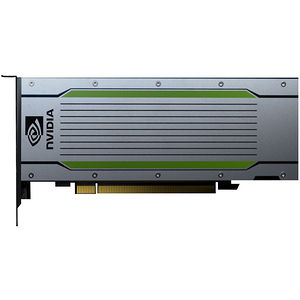 NVIDIA 900-2G183-0000-000 Tesla T4 PCIe 16 GB GDDR6 Passive GPU Low Profile
Highlights
Standard Memory: 16 GB
Cooler Type: Passive Cooler
Product Type: Graphic Card
Condition: New
Next-Level Acceleration Has Arrived
We're racing toward the future where every customer interaction, every product, and every service offering will be touched and improved by AI. Realizing that the future requires a computing platform that can accelerate the full diversity of modern AI, enabling businesses to create new customer experiences, reimagine how they meet—and exceed—customer demands, and cost-effectively scale their AI-based products and services.

The NVIDIA® T4 GPU accelerates diverse cloud workloads, including high-performance computing, deep learning training and inference, machine learning, data analytics, and graphics. Based on the new NVIDIA Turing™ architecture and packaged in an energy-efficient 70-watt, small PCIe form factor, T4 is optimized for scale-out computing environments and features multi-precision Turing Tensor Cores and new RT Cores. Combined with accelerated containerized software stacks from NGC, T4 delivers revolutionary performance at scale.
Powering Scale-Out AI Training and Inference
Supercharge any server with NVIDIA® T4 GPU, the world's most performant scale-out accelerator. Its low-profile, 70W design is powered by NVIDIA Turing™ Tensor Cores, delivering revolutionary multi-precision performance to accelerate a wide range of modern applications. This advanced GPU is packaged in an energy-efficient 70-watt, small PCIe form factor, optimized for scale-out servers and purpose-built to deliver state-of-the-art AI.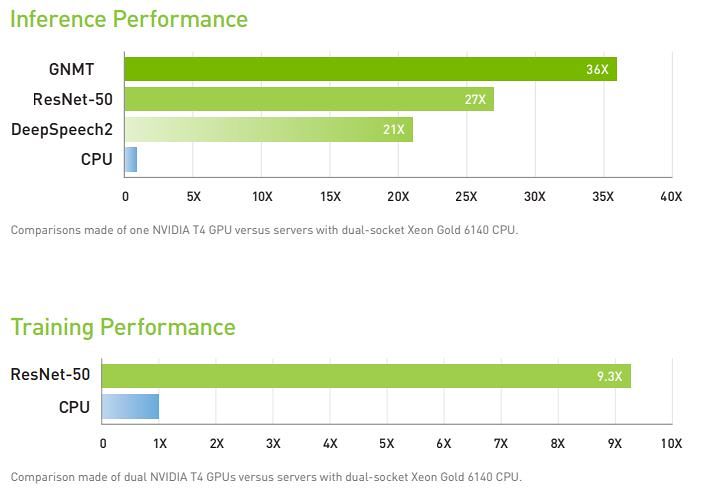 Scale-Out Performance Driving Data Center Acceleration
Small form factor 70-watt (W) designmakes T4 optimized for scale-out servers,providing an incredible 50X higher energyefficiency compared to CPUs, drasticallyreducing operational costs. In the lasttwo years, NVIDIA's Inference Platformhas increased efficiency by over 10X, andremains the most energy-efficient solutionfor distributed AI training and inference
Turing Tensor Core technology withmulti-precision computing for AI powersbreakthrough performance from FP32 toFP16 to INT8, as well as INT4 precisions.It delivers up to 9.3X higher performancethan CPUs on training and up to 36X oninference.
The NVIDIA T4 data center GPU is theideal universal accelerator for distributedcomputing environments. Revolutionarymulti-precision performance acceleratesdeep learning and machine learningtraining and inference, video transcoding,and virtual desktops. T4 supports all AIframeworks and network types, delivering dramatic performance and efficiencythat maximize the utility of at-scaledeployments.