WyreStorm SW-0401-HDBT 4K HDBaseT™ 4:1 HDMI/DP/VGA Presentation Switcher with scaler & CEC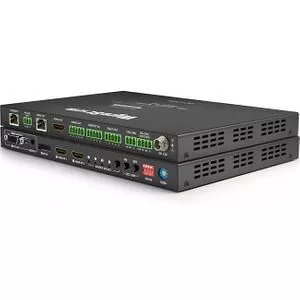 Highlights
Product Type: Video Switchbox
Form Factor: Rack-mountable
Condition: New
Category: Video Cards and Devices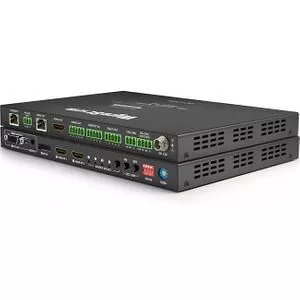 WyreStorm SW-0401-HDBT 4K HDBaseT™ 4:1 HDMI/DP/VGA Presentation Switcher with scaler & CEC
Highlights
Product Type: Video Switchbox
Form Factor: Rack-mountable
Condition: New
Category: Video Cards and Devices
AUTO SWITCHING
While the SW-0401-HDBT can be switched manually, it also has the ability to automatically switch between VGA, DisplayPort and two HDMI inputs using the First-In, Last-Out rule, making switching as seamless as possible.
CEC TRIGGERING
With CEC capable displays, CEC can be triggered from source detection or with use of the front panel CEC control, allowing the user to power on and off displays through the HDMI cable with a touch of a button.
CLASS A HDBASET OUTPUT
Utilizing the power of Class A HDBaseT, the SW-0401-HDBT can transmit scaled 4K content, as well as PoH, Ethernet, audio and control signals over Cat6/6a cable at distances of up to 70m/230ft with the RX-70-4K. Same distances can be achieved with the RX-70-4K ARC, but with the benefit of audio break out at the receiver end.
SCALED MIRRORED OUTPUTS & BALANCED AUDIO
Perfect for taking lower resolution content, such as from a PC/MAC source and scaling up to 4K@30Hz to both HDBaseT and mirrored HDMI outputs. Furthermore, balanced audio breakout allows connection to a local audio system.