Tripp Lite P004-18N-2C13 C14 to C13 Splitter PDU Style C14 Male to 2x C13 Female 10A 18in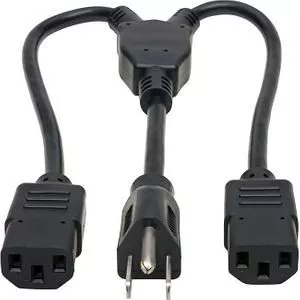 Highlights
Product Type: Splitter Cord
Condition: New
Category: Power Devices
Subcategory: Power Distribution Units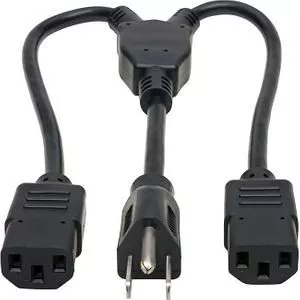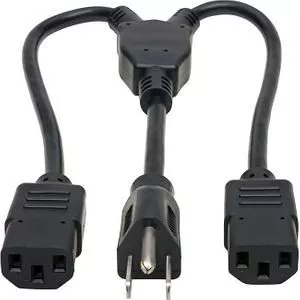 Tripp Lite P004-18N-2C13 C14 to C13 Splitter PDU Style C14 Male to 2x C13 Female 10A 18in
Highlights
Product Type: Splitter Cord
Condition: New
Category: Power Devices
Subcategory: Power Distribution Units
C14-to-C13 Y-Style Splitter Cord Connects 2 Devices with C14 Inlets to One C13 Outlet
This UL-listed IEC-320-C14 to IEC-320-C13 splitter allows two devices with C14 power inlets to share one AC input cord and one C13 outlet. This C14 male to C13 female cord features a C14 end for connecting to an AC power source on a PDU, surge protector or UPS system and two C13 ends for connecting to devices. By connecting two devices to one outlet in your home office or workspace, the power cord splitter frees up space in a PDU or surge protector and helps reduce cable clutter. The length of the C14 connector to the split is 6 and the length of the two C13 connectors is 12 from the split.
IEC Cable Powers a Wide Variety of Essential Electronics
With this PC power splitter, a single C13 outlet can power two devices, such as computers, monitors, printers, instrument amplifiers and other equipment compatible with a C13 connector. Ideal for areas where AC outlets are limited, such as rack cabinets, this IEC cable is compatible with Tripp Lite power and extension cords.