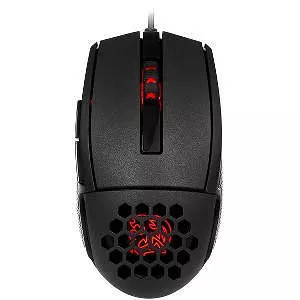 MPN: MO-VER-WDOOBK-01
Thermaltake MO-VER-WDOOBK-01 VENTUS R Mouse
The VENTUS R features a PIXART PMW-3310 optical sensor with up to 5000 DPI that offers superior tracking across the widest variety of surfaces; and comes equipped with an ARM based 32bit microcontroller with 32KB flash memory, 5 programmable keys for 5 different gaming profiles and 256kb of on-board memory to meet all the performance needs of the gaming enthusiast. With a unique aerodynamic engineered air-through ventilation system coupled with smart ergonomic design, a perfect balance is struck from hand-to-mouse to create the most optimal touch feel user experience.
ARM BASED 32 BIT MICROCONTROLLER
Powered by an ARM 32 bit microcontroller with 32KB flash memory, the VENTUS R provides lightning-fast processing power and speed to handle the most demanding of calculations, without compromising valuable computer resources.

POWERFUL PIXART PMW-3310 OPTICAL SENSOR UP TO 5000 DPI

The VENTUS R optical gaming mouse offers up to 5000 DPI and can be fine-tuned in increments of 100 DPI allowing you to move with precision and pinpoint accuracy during gameplay.

ENHANCED 20 MILLION CLICKS OMROM ENGINEERED SWITCHES

The use of high quality OMRON switches provide a truly enhanced tactile response from each click; and with a 20 million click lifecycle, the VENTUS R gaming mouse plans to compete as long as you do.
AERODYNAMIC ENGINEERED AIR-THROUGH VENTILATION SYSTEM
Aerodynamic honeycomb design with smart ergonomic construction enables the smooth passage of airflow from hand-to-mouse during gameplay; and creates an environment of breathability for enhanced movement and comfort during use, especially during periods extended gameplay.
POWERFUL CUSTOMIZATION CONTROL
The VENTUS R mouse is built for those looking for customization. It's built with 5 programmable buttons that can store up to 5 profiles with 25 programmable macro key options. Selectable polling rates can also be changed through the ranges of 125/250/500/1000 Hz via the gaming software.

SMALL DESIGN, MAXIMUM COMFORT

Designed for maximum comfort and flexibility, the VENTUS R is suited towards gaming enthusiasts who desire something smaller. Ergonomic and aerodynamic design features ensure movement and flexibility are not affected.

RGB ILLUMINATION 16.8 MILLION COLORS
The new gaming software of the VENTUS R equips the gaming mouse with 16.8 million colors across 2 zones with readily adjustable illumination from 0 to 255. Personalize your gaming mouse to your style and gameplay, whenever, wherever.
SPECIAL ADVANCED MATTE COATING

Specially advanced coated material covers each zone of the VENTUS R for improved comfort and durability, whilst creating a perfect balance between the areas required for essential grip, and areas for soft touch during your gaming sessions.
NEW GAMING SOFTWARE
Gaming enthusiasts can adjust the color illumination of the VENTUS R via the preset color profiles stored in the 32 bit ARM processor of the mouse or download the new gaming software to customize their own color scheme. 8-bits in red, green, and blue equating to a total of 24-bits, plus 256 colors each, results to a whopping 16.8 million possible color options.
ON-BOARD MEMORY
The VENTUS R features 256K of built-in memory which allows for quick save and recall of your favorite settings anytime and from any PC. Save up to 5 individual profiles, DPI adjustments, lighting configurations and macros all directly onto the mouse.