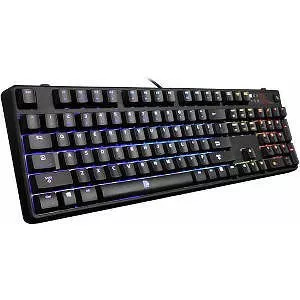 MPN: KB-PZR-KLBRUS-06
Thermaltake KB-PZR-KLBRUS-06 POSEIDON Z RGB (Blue Switch Edition) Keyboard
The POSEIDON Z RGB Gaming Keyboard - A simple yet astonishing spectrum keyboard; it offers extreme customization options for users to play with, energizing you with the colors to take gaming style to the next level with experiencing the colorful of life. With the layering and colorbar concepts, our basic customizable backlighting has been evolved for extreme customization. It gives a spectrum of visual effects featuring 16.8 million colors and provided users the easiest way to tune and most importantly, it colors up your life!
16.8 Million Colors
Built with latest cutting edge 32bit gaming keyboard microprocessor, the Poseidon Z RGB Mechanical Gaming Keyboard delivers a complete 16.8 million color RGB spectrum to each light emitting diode. With an array of gorgeous lighting pre-sets available out of the box, as well as the ability to completely customise, reprogram and adjust every RGB lighting detail right down to the brightness and speed at which effects perform - endless possibilities await you.

Custom Lighting Effects

Take full advantage of the Poseidon Z RGB's 16.8 Million Color RGB spectrum thanks to our powerful Tt eSPORTS Windows Software. Personalise, customise and finely tune and adjust your Poseidon Z RGB Mechanical Gaming Keyboard across every key - and game just the way you want. Setup up to 5 different profiles and lighting configurations in no time at all - and save them directly to the in-built memory on the Poseidon Z RGB Mechanical Gaming Keyboard so that all your settings come with you, no matter where you're gaming.