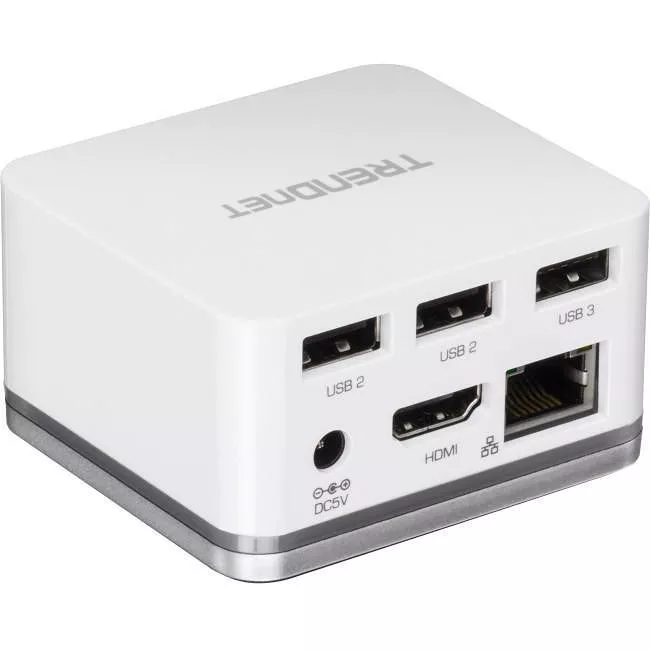 MPN: TUC-DS1
TRENDnet TUC-DS1 USB-C HD 4K Docking Station Cube, Supports 3840 x 2160 Resolution At 30Hz, 1 x USB 3.0 Port, 2 x USB 2.0 Ports, Supports Windows 10 and Mac Operation Systems, White,
DEVICE INTERFACE: 1 x HDMI Port; 1 x Gigabit Ethernet Port; 1 x USB Type-C Upstream Port; 1 x USB 3.0 Downstream Port; 2 x USB 2.0 Downstream Ports; 1 x Power Jack
COMPATABILITY: This 4K Docking Station connects and is compatible with Windows 10 and Mac Operating Systems as well as most Android OS 7.0 and up phones with an USB-C interface.
4K HD RESOLUTION: The USB-C docking station supports up to 3840 x 2160 at 30Hz for PC, and up to 1920 x 1080 @ 60Hz for Windows Phones
COMPACT DESIGN: This small cube form factor is a space saver for any office, home, or workstation. The single USB-C connection allows for quick and easy setup in minutes and a device suited for traveling.
HDMI PORT: The 4K docking station allows you extend or mirror your notebook PC's display to an HDTV monitor via HDMI for high definition video. HDMI: Max. 3840 x 2160 resolution (supports full 1080p) 5.1 Channel (over HDMI source)
USB PORTS: There are two USB 2.0 Ports and one USB 3.0 Port that allows you to connect your keyboard, mouse, storage, and any other devices seamlessly.
TRENDnet's Universal USB-C HD Docking Cube, model TUC-DS1, connects your laptop or Ultrabook™ to your network and multiple devices with a single cable. Manage workstation devices such as USB storage, keyboard, mouse, printer, scanner, and HD display over a high-speed USB-C connection. Extend or mirror your notebook PC's display to an HDTV via HDMI to experience high definition video.

HDMI Port
Connect an HDMI monitor to the TUC-DS1 to add a high definition display to your workstation.

Compact Cube Design
Compact space saving design connects workstation peripherals over a single USB-C connection.

USB Ports
Convenient USB 2.0 and 3.0 ports allow you to connect multiple USB devices to your notebook PC.

Package Contents:
- TUC-DS1
- Quick Installation Guide
- Power adapter (5V DC, 4A)
- USB-C cable (91cm/ 36 in.)