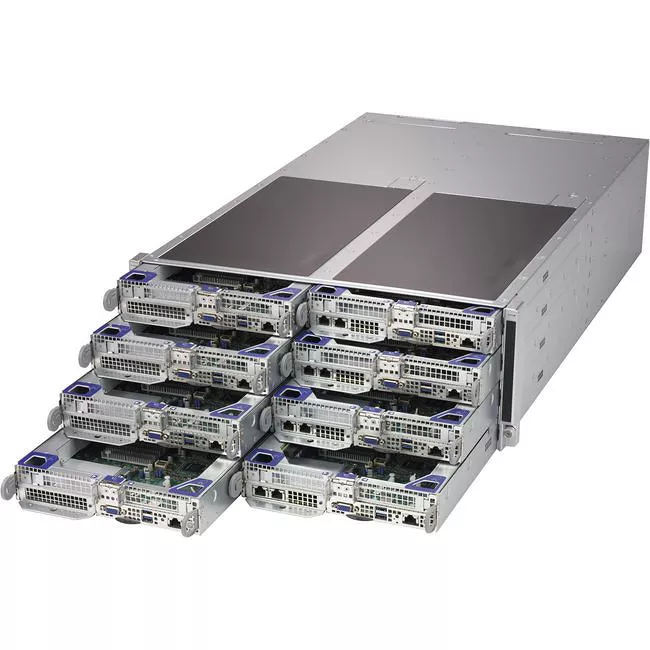 MPN: SYS-F619P2-FT+
Supermicro SYS-F619P2-FT+ 4U Rack Barebone - Intel C621 Chipset - 8 Nodes - Dual Socket P LGA-3647
FatTwin
Advanced 4U Twin Architecture with 8, 4 or 2 Nodes
Resource-Saving Design for Best Efficiency and TCO
The Supermicro FatTwin represents a revolution in Green Computing and is highly efficient by design; this system supports customers' critical applications while reducing Data Center TCO in order to help preserve the environment and extends the compute and storage capabilities of Supermicro's existing Twin SuperServer systems to achieve increased performance and power efficiency. Due to its shared components, the FatTwin improves cost-effectiveness and reliability, while its modular architecture makes it flexible to configure and easy to maintain.
Electrically Isolated Nodes with Redundant Power Supplies for Best Reliability
The left and right halves of the Supermicro FatTwin are electrically isolated from each other, still providing up to 4 hot-swappable nodes on each side. In addition, each side also has redundant 2200W Titanium Level (96%) power supplies providing maximum efficiency and reliability for each half of a FatTwin system.
Supermicro SIOM - Most Flexible, Cost-Optimized Server I/O
The Supermicro® Super I/O Module (SIOM) delivers up to 50% of I/O cost savings and freedom to select networking options from 1Gb/s to100Gb/s through a Supermicro optimized form factor that is easy to scale, service and manage across a broad range of Supermicro server and storage systems. The SIOM also enables a higher degree of system integration and increased capacity by saving PCI-E slots that are traditionally reserved for add on cards. With SIOM you choose your onboard I/O.