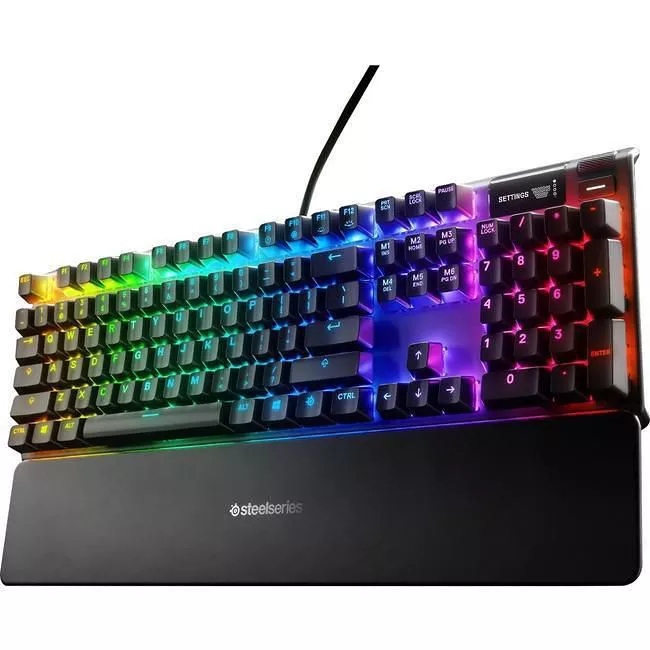 MPN: 64786
SteelSeries 64786 APEX 7 Brown - Mechanical Keyboard - OLED Display - Metal Frame - USB Passthrough
OLED Smart Display
An integrated command center displays useful information for adjusting settings, changing profiles, and seeing on-the-fly updates. Avoid tabbing out of what you're doing, and instead let your keyboard show you the important details.
SAVE CUSTOM MACROSFIVE ON-BOARD PROFILESCONTROL PRISM EFFECTS
Also works with games and applications like...
View current KDA, money, and more
View current speaker, messages, and more

Durable Mechanical Gaming Switches
Guaranteed for 50 million keypresses using whichever ultra-fast switch type you prefer: red, blue, or brown.
Aircraft Grade Aluminum Alloy
The Series 5000 metal frame is manufactured for a lifetime of unbreakable durability and sturdiness, making it the perfect centerpiece of any high end setup.
Premium Magnetic Wrist Rest
The perfect keyboard accessory, with a simple magnetic solution for easy and secure attachment, full palm support, and durable soft touch finish, so you're comfortable typing and gaming for as long as you want.
Dedicated Multimedia Controls
A clickable metal roller and the media key allows you to adjust volume and settings on the fly: change brightness, rewind, skip, pause and more, all at the touch of a button.
USB Passthrough Port
No more crawling behind your PC to plug in USB devices. Instead, insert a flash drive, wireless mouse/headset transmitter, phone, or any USB device directly into the keyboard.
Three-Way Cable Routing
Prevent your cable from stretching, pulling, and getting in the way. The frame has built-in channels that allow you to choose from one of three possible places for your cable to exit, keeping your desk tidy.
Dynamic Per-Key RGB Illumination
Millions of color options and reactive typing effects make you the designer of your ultimate setup. Sync up with your other SteelSeries gear for the most gorgeous setup ever
Customize Everything
SteelSeries Engine unlocks a library of features for all SteelSeries products, so you can customize, sync, and tweak your setup to perfection.