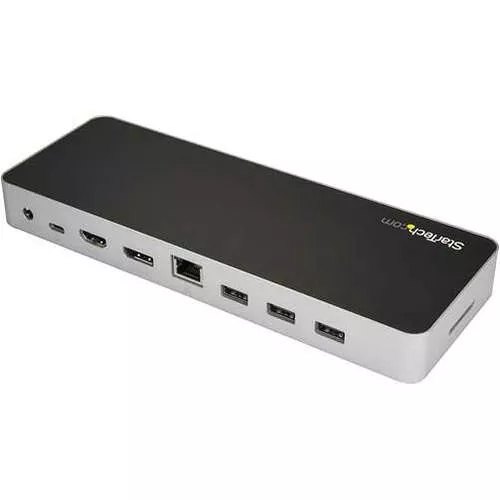 MPN: DK30CHDDPPD
StarTech DK30CHDDPPD Dual Monitor USB C Dock - Dual 4K Laptop Docking Station - DP / HDMI
This dual-monitor USB-C™ dock transforms your MacBook or Windows® laptop into a dual Ultra HD 4K workstation, with support for 4K DisplayPort and HDMI monitors. It gives you all the connections to create a fully capable workstation, including an SD™ card reader slot.
The USB-C docking station features USB Power Delivery 2.0 (60W), to power and charge your laptop as you work. It's the perfect companion for your MacBook Pro or other Thunderbolt™ 3 equipped laptop.
Create a dual-4K video workstation
The USB-C dock expands the display capabilities of your laptop across two Ultra HD 4K monitors. It enables DisplayLink® and USB-C DP Alt Mode to allow dual 4K video output to HDMI and DisplayPort 4K monitors. With the dual-4K dock, you can connect:
1x 4K DisplayPort display at 3840 x 2160 resolution @ 30Hz
1x 4K HDMI display at 3840 x 2160 resolution @ 30Hz
SD card reader
The dock provides direct access to your SD memory cards or microSD™ cards (with adapter). The SD card slot can also be used for additional storage and backup through macOS X Time Machine or Windows 10 File History.
Ample connections
The dock provides four USB 3.0 (Type-A) ports to connect your peripherals, including a USB 3.0 fast-charge and sync port, a Gigabit Ethernet port, and a combined 3.5 mm audio and microphone port.
Universal support
Compatible with Mac and Windows, this universal dock works with USB-C and Thunderbolt 3 enabled laptops.
Connected Device Transparency with the StarTech.com MAC Address Changer Utility
The DK30CHDDPPD, includes a free Windows® application that enables you to better manage your enterprise network security. When you connect to your network through the ethernet port of the dock, the computer's MAC address is typically not broadcast to the network, as your network only sees the MAC address of the docking station. However, the StarTech.com MAC Address Changer or Cloning software enables the USB-C dock to use MAC address spoofing of the connected Windows laptop rather than the MAC address of the dock itself. This ensures your network administrators have full visibility of each device on the network and can monitor and limit activity accordingly. To request access to our MAC Address Changer utility, please contact our Technical Support Department by phone, live chat, or e-mail.
The DK30CHDDPPD is backed by a StarTech.com 3-year warranty and free lifetime technical support.