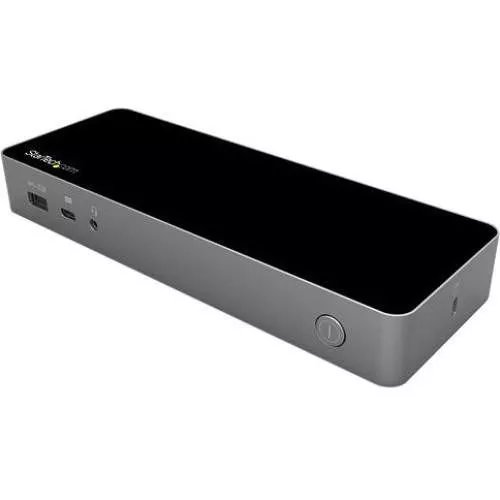 MPN: DK30C2DPEP
StarTech DK30C2DPEP USB-C & USB-A - Laptop Docking Station w/ 100W - Dual Monitor 4K 60Hz HDMI
Transition from the legacy USB-A (USB 3.0) to the new USB-C with this certified universal laptop docking station for USB-C and USB-A laptops. The USB-C dock features 100W Power Delivery 3.0, dual HDMI and/or DisplayPort monitors, fast-charge, and both USB-C and USB-A peripheral ports.
The Uniquely Universal Host Cable
The USB-C dock comes with a universal host cable that is designed with an attached USB-C to USB-A adapter to accommodate USB-A laptops. The cable also features an extended length of 1 meter (3.3 ft.) to support a wide variety of workstation setups.
Replacement or extra cables can be purchased separately here.
100W Power Delivery
For high performance laptops that require more charging power, the dock powers and charges your laptop as you work with 100W PD for faster charging, using the 150W power adapter - all through a single cable.
Flexible Monitor Connections
This is a dual 4K60Hz video docking station with support for both Ultra HD DisplayPort and/or HDMI monitors that lets you configure your video connections to best suit your needs.
Dual 4K DisplayPort | Up to 4096 x 2160p @ 60Hz

Dual 4K HDMI | Up to 4096 x 2160p @ 60Hz

Single 4K DisplayPort + Single 4K HDMI | Up to 4096 x 2160p @ 60Hz

Single 5K DisplayPort * | Up to 5120 × 2880
*Requires monitor support for 5K using two DP ports
Certified for Universal Compatibility & Reliability
This docking station is fully certified to meet top industry standards for USB-IF (USB 3.1 Gen 1, USB Type-C and Power Delivery), VESA DisplayPort and DisplayLink (video connections) certification to guarantee the highest quality, reliability, and compatibility.
Easy and Convenient Setup
For fast setup right out of the box, the combo cable (USB-C with attached USB-A adapter) lets you connect any laptop. The dock has mounting holes for workstation mounting (bracket not included).
The Connections You Need
Connect your devices with four USB 3.1 ports: 1x USB-C and 3x USB-A. Fast-charge your USB-C or USB-A smartphone. The dock provides a GbE port (PXE Boot support & Wake-on-LAN) and 3.5 mm 4-position headset audio jack. It also includes a security lock slot (K-slot) to protect against theft.
For more installation flexibility, you can use StarTech.com mounting brackets (SSPMSUDWM & SSPMSVESA) that are specifically designed for our docks and hubs, to mount your dock to a desk, wall, or other surfaces to give you the customized setup you need.
Enhance Productivity and Device Management with the StarTech.com Connectivity Tools Application
Developed to improve performance and security, StarTech.com Connectivity Tools is the only software suite on the market that works with a wide range of IT connectivity accessories. The software suite includes:
Advanced Windows Layout Utility: To setup and save custom windows layouts.

Mac Address Pass-Through Utility: To improve network security.

USB Event Monitoring Utility: To track and log connected USB devices

Wi-Fi Auto Switch Utility: Enabling users to quickly access faster network speeds via wired LAN.