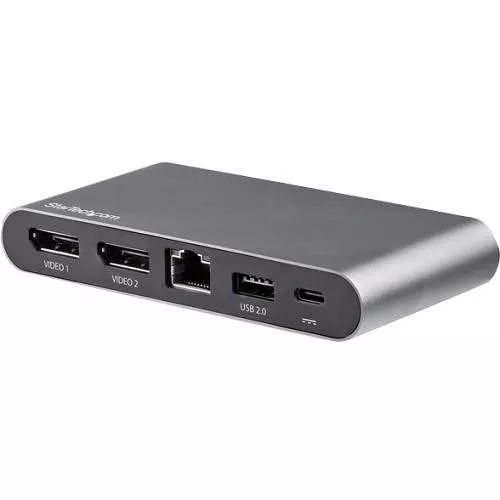 MPN: DK30C2DAGPD
StarTech DK30C2DAGPD USB C Multiport Adapter - Dual 4K Monitor - Dual DisplayPort - 2x USB-A Ports
Transform your Windows laptop into a dual monitor workstation using this USB-C docking station. It offers support for dual DisplayPort monitors, 2 USB-A peripherals, a LAN port for GbE network access and an extended 1-meter host cable.
DisplayPort™ Alternate Mode to Choose Your Video Display Output
Achieve dual 1080p up to a single 4K 60Hz display using the DisplayPort™ Alternate Mode (DP Alt-Mode) configuration switch.
Switch LeftSwitch Right 2 Lane DP Alt- Mode4 Lane DP Alt Mode
USB 3.0
(5Gbps)
USB 2.0
(480 Mbps)
Dual 1080p Monitors
or
Single 4K 30Hz Monitor
Dual 4K 30Hz Monitors
or
Single 4K 60Hz Monitor
Reliable 100W Power Delivery Passthrough
The USB-C multiport adapter uses your USB-C laptop's power adapter and can provide up to 100W Power Delivery (3.0) pass through with up to 85W for your host device for charging. The remaining wattage will power the docking station along with any attached USB-A peripherals such as smartphones and tablets.
Multi-Stream Transport for Driverless Displays
The multi-stream transport technology (MST) in this dock powers two DisplayPort monitors with no driver installation required so you are up and running faster.
Connected Device Transparency with the StarTech.com MAC Address Changer Utility
The DK30C2DAGPD, includes a free Windows® application that enables you to better manage your enterprise network security. When you connect to your network through the ethernet port of the DK30C2DAGPD, the computer's MAC address is typically not broadcast to the network, as your network only sees the MAC address of the docking station. However, the StarTech.com MAC Address Changer or Cloning software enables the USB-C dock to use MAC address spoofing of the connected Windows laptop rather than the MAC address of the dock itself. This ensures your network administrators have full visibility of each device on the network and can monitor and limit activity accordingly. To request access to our MAC Address Changer utility, please contact our Technical Support Department by phone, live chat, or e-mail.
Comprehensive Product Testing & Expert Technical Support
StarTech.com conducts thorough compatibility and performance testing on all our products to ensure we are meeting or exceeding industry standards and providing high-quality products to our customers. Our local StarTech.com Technical Advisors have a broad product expertise and work directly with StarTech.com Engineers to provide support for our customers both pre and post-sales.
This docking station is backed by a StarTech.com 3-Year warranty and free lifetime technical support.