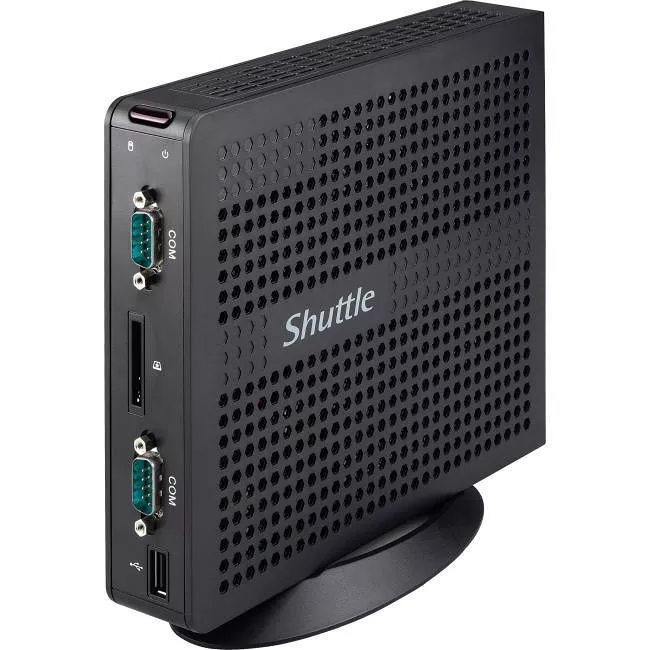 MPN: XS36V5
Shuttle XS36V5 Desktop Computer - Intel Celeron N3050 1.60 GHz DDR3L SDRAM - Slim PC - Black
An energy-efficient ultra slim PC for Triple displays

The new XS36V5 features only 36mm-thin ultra slim design with multiple USB ports as well as one RS232 and one RS232/422/485 which support 0V/5V/12V, designed for POS, POI, Kiosk, digital signage, and more applications. The XS36V5 supports Intel® Braswell platform technology with integrated Intel® 8th generation HD Graphic Engine, capable to playback Full HD video content. At the back panel of XS36V5 provides DisplayPort, HDMI, and D-sub ports to support three independent screens. It has approved for 24/7 nonstop operation within in 0-40 °C application environments. The combination of fanless cooling design and VESA mount capability with a mere 40W adapter makes XS36V5 suitable for diverse commercial applications.


Intel® Braswell Platform Technology
The XS36V5 supports Intel® Braswell platform technology, equipped with 14 nm Intel® Celeron® N3050 dual-core processor. Support 1.35V DDR3L low-voltage memory with a maximum capacity up to 8GB, able to reduce thermal energy production and overall energy consumption.
Fanless Design
The XS36V5 uses a thermal module with cooled heat pipes to transmit heat throughout the system quickly and evenly. The fanless design reduces power consumption required by a fan as well as the cost of replacing fans on-site. Use with solid-state disks and create an operational platform completely free of noise.
Connectivity with two RS232 ports
The XS36V5 features two RS232 ports (one RS232 and one RS232/RS422/RS485) which both support 0V/5V/12V. Connect with barcode scanners, receipt printers, keypads, and other peripherals. The XS36V5 is easily configured into peripheral-heavy POS, Kiosk, and Digital Signage systems.
Support wire and wireless high-speed networks
The XS36V5 has built-in Intel® i211 Gigabit LAN and supports Wake On LAN to provide high-speed data transfer capability as well as a better compatibility for business network environment. With a built-in IEEE 802.11 b/g/n wireless network module*, providing high-speed wireless data transmission speed.
*Detail of WiFi support, please refer to the spec sheet.
24/7 Nonstop Operation
Officially approved for 24/7 permanent operation. Thanks to Shuttle's low power consumption design and stable operation, the PC runs highly reliable and meets the long-term demands of digital signage or other vertical applications.
The Watchdog protecting system security
Watchdog Timer provides excellent security protection for systems that need to operate continuously for a long period of time. Use Shuttle Watch Dog utility to maintain normal operation and stability of the system at all times.