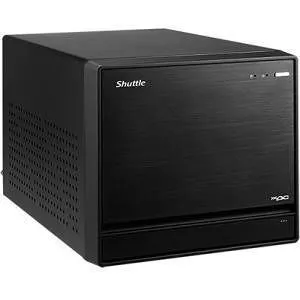 MPN: SZ270R8
Shuttle SZ270R8 XPC Cube Barebone System Mini PC - Intel Z270 Chipset - Socket H4 LGA-1151
New Mini PC packs 4K and High-end VGA cards with Kabylake platform

The SZ270R8 with a stylish aluminum chassis is three times smaller than tower PC with impressive expansion capability and storage capacity at a compelling price. With a new internal design, the SZ270R8 can support large-format dual-slot graphics cards and install up to four 3.5 hard as well as support Intel® Rapid Storage Technology (Intel® RST), providing a variety of RAID mode selection . Equipped with Intel® Z270 chipset, this new high performance XPC cube is designed for to drive Intel® Kabylake LGA 1151 processors and deliver outstanding speed performance. With Intel® HD graphics, the SZ270R8 is able to support 4K/Ultra HD video playback. Display imaging on up to three independent screens via HDMI or DisplayPort. The SZ270R8 provides one PCI-E x16 slot (Support Dual Slot VGA card) that supports professional graphics cards for gaming PC, video wall, and more application. The SZ270R8 is built-in Dual Gigabit LAN that supports Wake on LAN and Teaming Mode, two M.2 2280 and one M.2 2230 slots, 10 USB ports(USB3.0*6), as well as optional RS232/LPT with strong expansion capability. Thanks to its exclusive I.C.E.2 heat pipe technology and an 80 Plus Silver 500W power supply, makes the SZ270R8 highly stable and energy-efficient for long-term operation.
Support Intel® 7th generation Core™ processor
Equipped with the new LGA 1151 socket, the SZ270R8 supports both Intel® 6th Gen (Skylake) and Intel® 7th Gen (Kabylake) Core™ i3/i5/i7, Pentium®, and Celeron® 95W processors. Built-in DirectX 12 compatible with the Intel® HD Graphics, it is significantly increased CPU or GPU performance.
Support Intel® Optane™ Technology
With a 7th Gen Intel® Core™ processor, the SZ270R8 supports the latest Intel® Optane™ technology which makes your overall system performance up to 28% faster to deliver amazing speed.
Support Intel® Rapid Storage Technology
The SZ270R8 is equipped with Intel® latest Z270 chipset which supports for four SATA 6Gbps slots as well as Intel® Rapid Storage Technology. It provides RAID 0/1/5/10 disk array modes, allowing for faster and more secured data access rates.
Independent HDD cooling design
Set up an 8cm fan in the front of inside case, can effectively remove the waste heat from hard drive to maintain stable and long-term operation.
Support 4K Ultra HD
The SZ270R8 provides DisplayPort and HDMI video outputs to support 4K Ultra HD (3840x2160). With four times the resolution of Full HD, viewers can enjoy super detailed and crystal clear imaging of 4K.
Three M.2 expansion slots
The SZ270R8 is built-in two M.2 2280 with type M and one M.2 2230 with type A/E slots to install M.2 SSD and a WiFi card, or other compatible device, providing a strong expansion capability.
Support Wake ON LAN
Use BIOS to set up the Wake ON LAN function so that users can power-on from sleep mode, rest mode, or when powered off via the internet.
The Watchdog- Protecting System Security
Watchdog Timer provides excellent security protection for systems that need to operate continuously for a long period of time. Use Shuttle's Watch Dog utility to maintain normal operation and stability of the system at all times.
80Plus Silver Certified 500W Power Supply
Shuttle's SZ270R8 is equipped with an 80 Plus Sliver 500W power supply for guaranteed energy efficiency and energy saving. Shuttle's 500W power supply cuts down on unnecessary power consumption for a higher level of energy saving.