Seagate ST1920KN0001 Nytro XF1440 1.92 TB 2.5" Internal Solid State Drive - PCI Express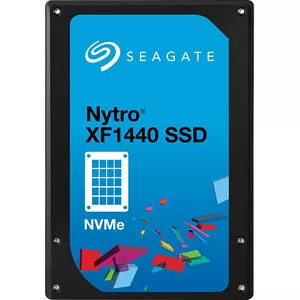 Highlights
Storage Capacity: 1.92 TB
Drive Interface: PCI Express
Drive Type: Internal
Product Type: Solid State Drive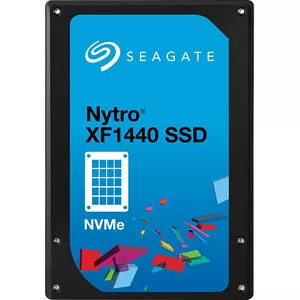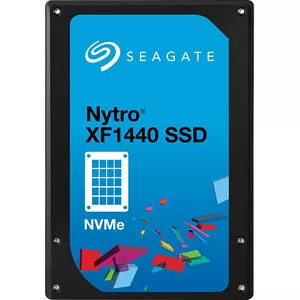 Seagate ST1920KN0001 Nytro XF1440 1.92 TB 2.5" Internal Solid State Drive - PCI Express
Highlights
Storage Capacity: 1.92 TB
Drive Interface: PCI Express
Drive Type: Internal
Product Type: Solid State Drive
More Computing, Less Space, Energy & Cost
Industry-leading storage density of up to 1.92 TB (2.5-inch) and up to 960 GB (M.2)
5× the bandwidth of SATA SSDs thanks to PCIe Gen3 ×4 interface with NVMe protocol
Lower TCO with up to 66% less power usage than other NVMe SSDs
Optimised for read-intensive and mixed workloads
Outstanding enterprise reliability and data integrity
Hot-swap capability for easy deployment and serviceability without downtime (2.5-inch)
Increase Density, Lower TCO
Upgrade your data centre's performance and storage density while driving down operating costs. Introducing the Seagate Nytro XF1440 and XM1440, enterprise NVMe SSDs perfectly tuned to increase density and performance while lowering cooling and energy costs. Available in 2.5-inch and M.2 form factors, they are the ideal solution for read-intensive and mixed workloads.

Get More Storage in the Same Footprint
Optimise data centre space by packing more storage into the same footprint. The Nytro XF1440 delivers up to 1.92 TB in the 2.5-inch x 7 mm form factor, and the Nytro XM1440 provides up to 960 GB in the M.2 form factor. Compact sizes and industry-leading capacities give you the most cost-effective, scalable way to increase your storage density.

Drag Down Cooling & Energy Costs
Lower power consumption means the Nytro XF1440 and XM1440 can help slash energy and cooling costs. Purchase the model that's optimised for your use case - either high-endurance for mixed workloads or high-capacity for read-intensive workloads.
Shatter Performance Bottlenecks
Accelerate performance thanks to the PCIe Gen3 interface and NVMe 1.2a protocol. The Nytro XF1440 and XM1440 SSD helps to reduce latency and response times and improve IOPS performance while reducing CPU usage.
Enterprise Expertise for Mature Data Reliability
The Nytro XF1440 and XM1440 SSDs deliver the highest levels of data integrity, data security and endurance for critical business applications.