Schrödinger MD and FEP+ Compatible System Highlights
EXPERT DESIGNED
To meet the requirements for Molecular Dynamics GPU Computing or highly complex Free Energy Perturbation (FEP) calculations
FULLY CUSTOMIZABLE
Offering a wide range of customizable options from workstations to clusters to meet your budget.
PLUG AND PLAY
Exxact Schrödinger GPU systems are fully turnkey, built to perform right out of the box to save time from installing, optimizing, and validating.
HIGH PERFORMANCE
Workstations and Servers optimized to meet or exceed the published performance numbers
PREINSTALLED
Schrödinger Desmond GPU computing solutions, designed in collaboration with Schrödinger.
SLURM WORKLOAD MANAGER
For workload scheduling & queuing so multiple researchers can submit jobs that run when resources are available.
NVIDIA CUDA-enabled GPU Accelerators offer computational chemists and biologists significantly higher simulation performance when compared to CPUs. As an NVIDIA Elite Solution Provider, Exxact Corporation has designed a series of GPU systems that are compatible and optimized for life science applications, such as Schrödinger's Desmond. Researchers can benefit from a range of system configurations with preinstalled applications that are ready to tackle the most compute-intensive scientific tasks right out of the box.
Mark Berger
Senior Alliance Manager, Life & Material Sciences, NVIDIA Corporation
Suggested Schrödinger MD Systems
Entry-Level
Valence Workstation
Mid-Range
Tensor Workstation
High-End
Tensor Workstation
SCHRÖDINGER SOFTWARE STACK
AutoQSAR, Canvas, ConfGen, Core Hopping, CovDock, Desmond, e-Parmacophores, Epik, FEP+, Field-Based QSAR, Glide, Induced Fit, Jaguar, KNIME Extensions, LigPrep, MacroModel, Maestro, MOPAC2012, OPLS3, Phase, PLDB, Prime, PrimeX, Protein Preparation Wizard, QikProp, QM-Polarized Docking, QSite, Shape Screening, SiteMap, WaterMap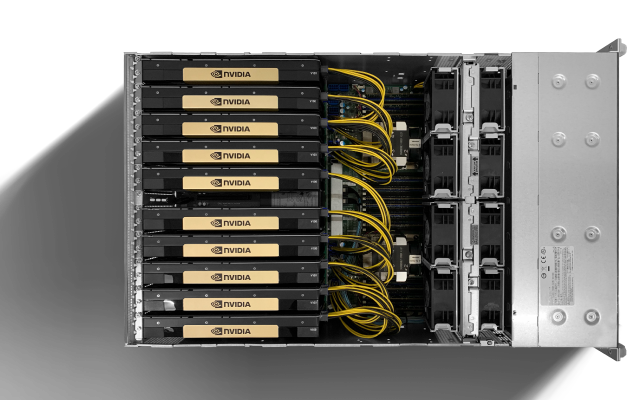 Schrödinger GPU Accelerated Simulations with NVIDIA GPUs
GPU computing has been widely used to accelerate compute-intensive simulations and push the boundaries of discovery. The multi-core platform of NVIDIA® Tesla® GPU provides the computational power far outpacing that of the typical CPU. Scientists and developers can access supercomputer scale performance to run later systems, more system or longer simulation timeframes.
The Desmond and FEP+ performance numbers are intended to demonstrate RELATIVE performance across all supported cards for a specific system. THEY ARE NOT TO BE USED TO PREDICT ABSOLUTE Desmond or FEP+ THROUGHPUT ON ANY OTHER SYSTEM. Throughput will vary due to system size, perturbation type, simulation length, and other factors. For help estimating throughput on your systems please contact
help@schrodinger.com
Desmond:
High-Performance Molecular Dynamics Simulations for Biomolecular System
Many biological phenomena of scientific and pharmaceutical interest occur on time scales that are computationally demanding to simulate. A high-performance Molecular Dynamics code, together with continuously advancing computer hardware technologies, can be used to perform simulations on time scales that illuminate these important biological processes. Desmond, created by D. E. Shaw Research, provides an unprecedented combination of parallel scalability, simulation throughput, and scientific accuracy to achieve these goals.
» NON COMMERCIAL USER?

DeepChem: Explore Drug Discovery with Deep Learning
Deep Chem is a powerful new open source deep learning framework that offers a feature-rich set of functionality for applying deep learning to problems in drug discovery and cheminformatics.