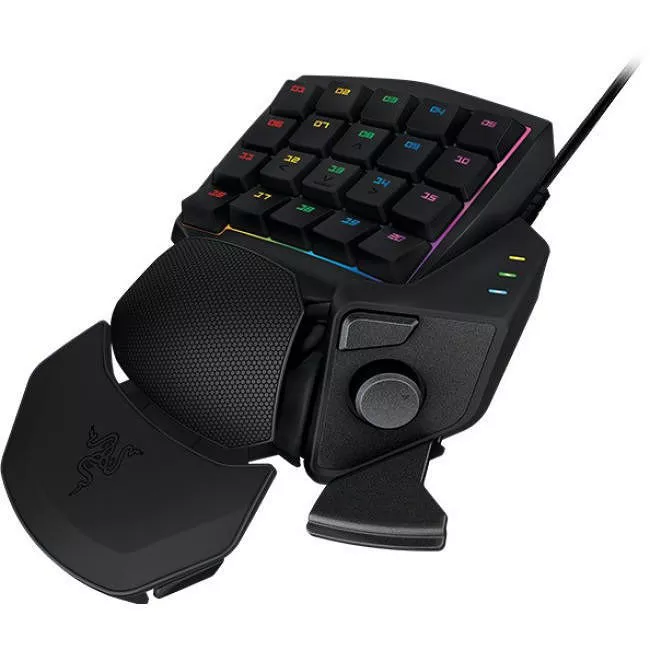 MPN: RZ07-01440100-R3U1
Razer RZ07-01440100-R3U1 Orbweaver Chroma Keypad
1 HAND ? COMMANDS
ALL-NEW RAZER™ MECHANICAL SWITCHES
Designed from the ground up specifically for gaming, the all-new Razer Mechanical Switches have an optimized set of actuation and reset points that improve your gaming performance by giving you speed and responsiveness like never before.
30 FULLY PROGRAMMABLE KEYS INCLUDING AN 8-WAY THUMB-PAD
Arm yourself with 20 fully programmable mechanical keys for more skills, hotkeys, and macros right at your fingertips. The programmable 8-way directional thumb-pad can also be used either for movement or as modifier keys to expand your repertoire of game-destroying abilities even further.
ADJUSTABLE HAND, THUMB, AND PALM-REST MODULES
The Razer Orbweaver Chroma was designed with adjustable, hand, thumb and palm-rest modules to let you customize the most comfortable experience with the keypad during marathon gaming sessions. Slide either part back or forth so that it sits under your thumb or cradles your palm perfectly, reducing hand fatigue, and optimizing ergonomic access to your controls.
CHROMA BACKLIGHTING WITH 16.8 MILLION CUSTOMIZABLE COLOR OPTIONS
The Razer Orbweaver Chroma features individually programmable backlit keys with 16.8 million color options, all easily set through Razer Synapse. From preloaded lighting effects for different types of games, to your own custom uniquely programmed palette of colors, you can effortlessly enhance your gaming experience in a way that is unique only to you.